Kensington unveils SD5700T Thunderbolt 4 Dual 4K Docking Station with 90W PD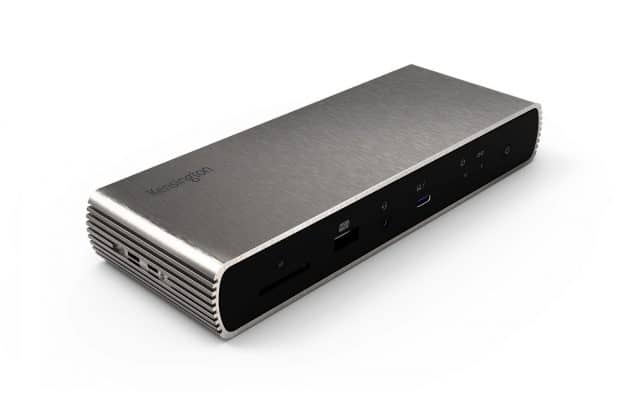 Well, folks, Thunderbolt 4 is no longer the future -- it is the present. What does this mean? It is time for manufacturers to start flooding the market with TB4 docking stations! Make no mistake, Thunderbolt 4-enabled computers should work fine with existing Thunderbolt 3 hardware, including docks. With that said, if you get yourself a TB4 computer, and you don't already have a TB3 dock, you should absolutely try and buy a TB4 dock.
Today, Kensington unveils its first such product. Called "SD5700T," it is a Thunderbolt 4 Docking Station with 90W power delivery. For video, it can output dual 4K or single 8K. It is loaded to the gills with useful ports, such as USB-A, Gigabit Ethernet, and USB-C/Thunderbolt 4. But also, it features an SD card reader and a beautiful aluminum chassis. This should be a great way to transform a new TB4 laptop into a proper desktop computer.
ALSO READ: Intel unveils Thunderbolt 4
"For the first time, the Thunderbolt-certified SD5700T Thunderbolt 4 Dual 4K Docking Station with 90W PD (K35175NA) can connect up to three additional Thunderbolt devices directly (up to five additional in total) while providing 40Gbps of total bandwidth, up to Dual 4K @ 60Hz video output, and audio; all through the included 0.8m (2.6ft) Thunderbolt 4 cable. In addition to performance, Intel VT-d based DMA protection keeps the setup secure," says Kensington.
ALSO READ: OWC launches Thunderbolt 4 Hub
The company further says, "The SD5700T helps create a future-ready desktop setup with 11 ports of connectivity, including four Thunderbolt 4 ports; four USB-A ports (one 5V/1.5A charging port on the front and three USB-A 3.2 Gen2@10Gbps ports on the rear); one Gigabit Ethernet port; one audio combo jack; and one UHS-II SD 4.0 card reader. Single 8K or Dual 4K (@ 60 Hz) video output for Thunderbolt 4-enabled hosts lets you extend visual productivity with the crisp resolution, contrast, and color depth of Ultra HD. "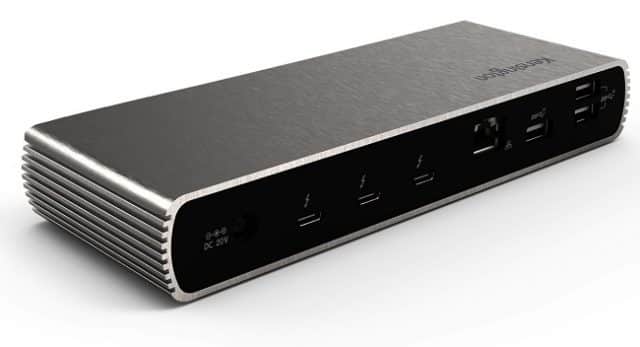 Kensington shares specifications below.
Connection Technology: Thunderbolt 4
Driverless: Yes
Additional Screen Outputs: 2
Video Ports: Thunderbolt 4
Maximum Resolution: 8K
Power Delivery: 90W
Number of USB Ports: 4
USB Fast Charging: Yes
Card Reader: SD Card Slot (UHS-II, SD4.0)
Lock TypeSupervisor Keyed
USB-A Ports: 1x USB 2.0 (front) with 5V/1.5A fast-charging, 3x USB 3.2 Gen2 (back) supporting 5V/0.9A
Audio: 1 x 3.5mm Combo Microphone & Headphone Port (front)
Data Transfer Speeds: Supports up to 40Gbps data transfer speed
Ethernet Speed (Mbps): 1000, 100, 10
Maximum Resolution Supported: Single 8K 30Hz or Dual 4K 60Hz
Warranty: 3 years
Security Slot Compatibility: Kensington Security Slot, Kensington Nano Security Slot
Thunderbolt Ports: 4x Thunderbolt 4 Ports (1 x upstream and 3 x downstream)
USB-C Power Delivery: Supports USB-C PD 3.0 (90W of laptop charging)
Video Output: Thunderbolt 4 ports
4K Support: Yes

Unfortunately, the Kensington SD5700T Thunderbolt 4 Dual 4K Docking Station with 90W PD does not seem to be in stock at any online retailers yet. However, it should be available here soon. What we do know for sure, however, is the price; Kensington says it will retail for $319.99.
Please note: Some of the above links may be affiliate links, meaning we, or our writers, may receive payment if you purchase one of these items (or other items) after clicking on them.