Microsoft is working on a major Edge update known as Phoenix -- and you can try one of the best features right now!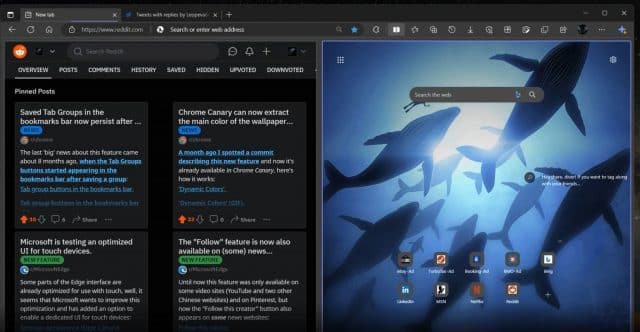 Since consigning Internet Explorer to the trash can and adopting the Chromium engine, Microsoft has developed Edge quite rapidly and it has evolved into a browser that does a lot to make up for its predecessor.
And Microsoft is showing no signs of slowing down. The company is currently working away on a revamped version of Edge, code-named Phoenix. In addition to a more Windows 11-like look, there are some new features on the horizon, including the ability to split an Edge window into two tabs -- and you can even try this out in the preview builds of Edge right now to get a taste of what the future holds.
See also:
Although Phoenix is yet to get an official public outing, we already know some of what Microsoft has planned thanks to various leaks and code digging. Billed by some as a 're-imagining' of Edge, the Phoenix update will see many changes including an updated user interface that more closely matches the look and feel of Windows 11, and the arrival of rounded tabs.
But tabs are not just getting a new look, there are also new tab-related features including the aforementioned dual-tab / split window option.
The feature has been shared online by the likes of WalkingCat on Twitter, as well as Redditor Leopeva64-2:
This new functionality will make it much easier to view two web pages side-by-side in a single tab, and the good news is that you can preview this functionality by installing either the Beta, Dev or Canary build of Edge. Pay a visit to edge://flags in Edge, search for the Microsoft Edge Split Screen flag and enable it.
Other features that are said to be in the pipeline including -- according to Windows Central -- a Tab Activity Center which will show information about browser usage.
Image credit: Leopeva64-2