Microsoft finally appears to be listening! Windows 11 users can disable Start menu recommendations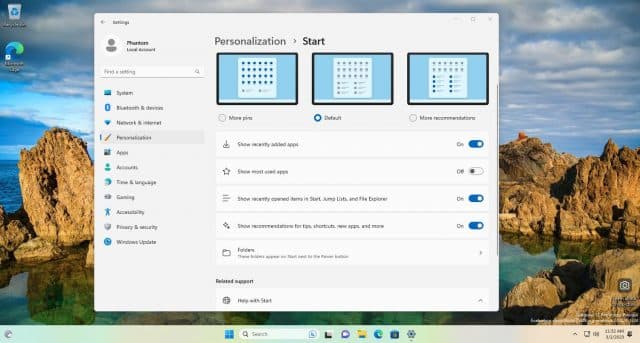 There has been a lot of controversy surrounding Windows 11, but one of the most contentious issues with the operating system has been the recommended content Microsoft pushes on users in various ways.
One medium through which these recommendations -- everything from apps that may (but probably won't) be of interest, to tips and advice -- are delivered is via the Start menu. Hidden away in the latest build of Windows 11, however, is an official toggle that makes it possible to turn off these ads... er, recommendations... once and for all.
See also:
The new option can be found in the Settings app in Windows 11 Build 25309, currently available in the Dev channel. It is not enabled by default, indicating that Microsoft is still either toying with the idea or that it is continuing to undergo internal testing, but once unlocked, it can be found in the Personalization > Start section.
It was down to software detective PhantomOfEarth to share details of the secret option on Twitter:
As is frequently the case, this hidden feature can be enabled using ViVeTool. Use the following steps:
Start by downloading the tool from GitHub
Extract the contents of the zip file to, for example, C:\ViVeTool
Open the Command Prompt with administrator privileges
Type cd C:\ViVeTool and press Enter (changing the path if necessary)
Type vivetool /enable /id:42916428 and press Enter
Restart Windows
Once you've restarted Windows, open Settings and head to Personalization > Start where you should find a new toggle labelled "Show recommendation for tips, shortcuts, new apps, and more".