Signing up for an Apple Savings Account was surprisingly bad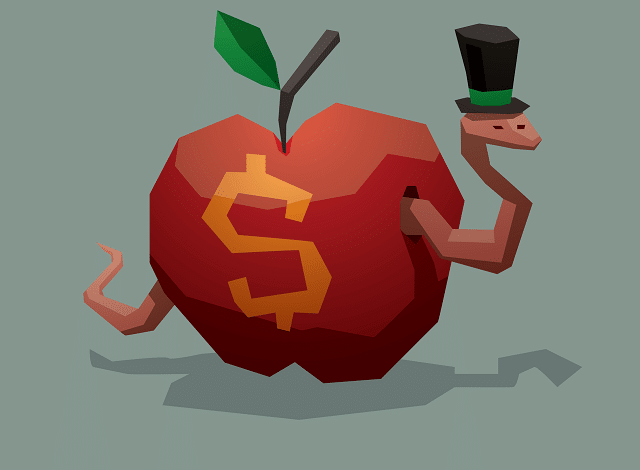 Announced last year in partnership with Goldman Sachs, the much-anticipated Apple Savings Account finally launched earlier today. Despite the long delay between announcing and launching the bank account, signing up for it was a surprisingly bad experience,
Firstly, it requires you to own an iPhone (on iOS 16.4 or higher) and be in the USA. I luckily meet this criteria, but understandably, Apple fans in other places would like to take advantage of the impressive APY (currently 4.15%). Of course, if and when the account launches in other countries, the rate is likely to vary based on location -- the percentage is unlikely to be the same regardless of country.
The bigger stumbling block, however, is the requirement of having an Apple Credit Card. This means users with bad credit cannot open an Apple Savings Account, as they are unlikely to get approved for the card. Not to mention, some people just don't want credit products -- why are they being left out? Hopefully Apple can find a way to offer the savings account to all people in the future -- regardless of Apple Credit Card status.
As an American with an Apple Credit Card, I expected to be able to sign up immediately, but that was not the case. Believe it or not, the sign up option is buried in the Apple Wallet options, and not at all obvious. I really had to dig around to find it. Apple did a very bad job with discoverability. When I finally found the option, I received an error message. Sigh.
As you can see below, I received an error of "Apple Pay Services are currently unavailable." I actually got this message several dozen times before I could get through. It was very frustrating. Ultimately, I got to the next page, entered some information, and I had a savings account.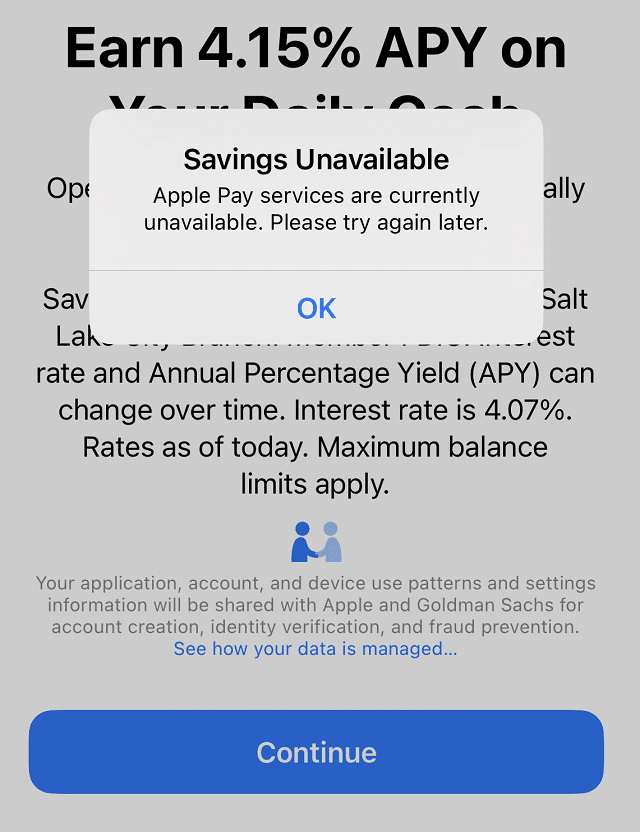 Before moving any money to the newly opened account, I wanted to add a beneficiary in case I die. Having worked in banking for a decade, I know having a listed beneficiary makes life easier for loved ones. Unfortunately, Apple makes you call and speak to a representative to add a beneficiary.
Calling wasn't a terrible ordeal, as there was no extended hold time. After navigating the phone prompts, I got through to a woman who was quite nice. Unfortunately, she had some difficulty understanding the name, social security number, and phone number of the beneficiary. After giving the information several times, we hopefully got everything correct.
Now that the name has been added, they do show up in the Apple Wallet app as my beneficiary. So, yes, I can verify the spelling of the name. However, the app does not list a phone number or address for the beneficiary, so I am not 100 percent sure that the phone representative didn't make any typos. I would much prefer that Apple let me input the information in the app myself and not require calling in.
Now that I wanted to move some money to the savings account, I went to the Apple Wallet app and found the account and routing numbers that I needed. Unfortunately, Apple does not allow you to copy and paste them, making it difficult to enter. Every time I multitasked on my iPhone, switching from the Apple Wallet app to my other banking app, the page with the routing and account number would disappear. So annoying!
So after all that, I have an Apple Savings account -- with a listed beneficiary -- but with no actual money in it. Will I transfer any substantial money to the account? I am not sure. The sign-up process did not instill confidence in me. Quite frankly, I am not sure if Apple is up to the task of being a dependable bank. I might just deposit a small amount and test it first.
Image credit: IvanNikulin/depositphotos.com