New Chromebook is Amazon top-seller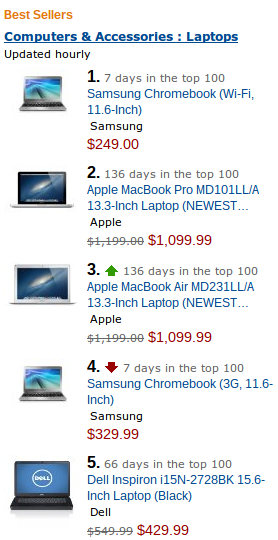 Apple should learn something from Google and Samsung. In a poll which results I'll post today, the majority of respondents tell us that iPad mini costs too much; prices start at $329. Meanwhile, the 11.6-inch Chromebook is priced just right. The WiFi model is Amazon's laptop top-seller, while the $329.99 3G model is No. 4 (and declining). Both models are sold out, like Google Play. Get one, if you can!
Many of you want new Chromebook, which swaps x86 for ARM architecture. So far, 1,770 people have responded to buying poll "Why you buy $249 Chromebook?". More than 35 percent plan to get one within 3 months, while 15.37 already placed orders. How funny if Google's Chrome OS portable turned out to be autumn's ARM sleeper sales success, and not iPad mini or Microsoft Surface.
Based on my using the new Chromebook for a week, I can say that it's a writer's dream machine. The keyboard is simply amazing, and the overall dimensions are lap or couch comfy. The portable is fanless and doesn't get too hot resting on the legs. But there's no gamer paradise here, and the ARM Chromebook often stops to catch its breath while climbing the hill of Flash ads.
Mine is a love-hate relationship. The ergonomics are fantastic -- every bit as good, and in some ways better, than the similarly looking Apple MacBook Air -- but the performance is not. The ARM Chromebook is fast enough for most tasks, but I do more waiting than I'd like. Strange, though, the occasional huff-and-puff slowdowns prove to be a refreshing mental break from the tunnel vision of writing.
Over at Google+, I've been communicating with geeky types considering new Chromebook, or even buying one.
"I have ordered one from PC World here in the UK, even though I don't need another laptop, partly due to your excellent first impressions report", Siamak Masnavi writes. "Mine's arriving on Friday. Can't wait!" To which I respond: "I tried not to set expectations too high. I do hope you are satisfied".
He answers: "I am aiming to use it exclusively for working with Google Docs/Sheets. But I could also take it on short trips instead of an iPad 3 or Nexus 7 because of the great keyboard and support for Adobe Flash. I am also hoping that Netflix support arrives soon".
The point of the exchange: He doesn't need another computer, but $249 is an irresistible price. Think about it. For the price of the cheapest-selling MacBook Air, you could buy four Chromebooks. Performance won't be the same, but I can attest from using both that ergonomics are quite similar.
My concern is one of expectations -- that many people will expect too much for the price. Masnavi rightly observes:
If you are expecting the performance of a 2012 MacBook Air at a quarter of the price, I guess you will be disappointed...but I am not expecting to use it for video editing, 3D gaming, or mobile app development. Despite what the Google TV ads says, I don't believe that this is a machine for everyone. However, for lite/typical web browsing and office work, as well as email management, I am guessing it will be just fine.
James Mason is "looking at this as a kids' laptop, as well as a secondary machine for myself. Need to persuade my wife & kids that Microsoft Word is not actually necessary for homework. ;-)"
Bram Bout answers:
My kids use the Samsung 550 Chromebook and love it. They have shown their teacher how they use Docs in school and then continue at home seamlessly which has impressed the teacher :). I'm thinking of pitching the new $250 model to our school, as they are about to replace a batch of MacBooks and I really think the Chromebooks are a better deal.
Did you buy the ARM Chromebook? If so is it good enough for your needs?