Parallels 9 for Mac -- great for Windows 8, Linux not so much [Review]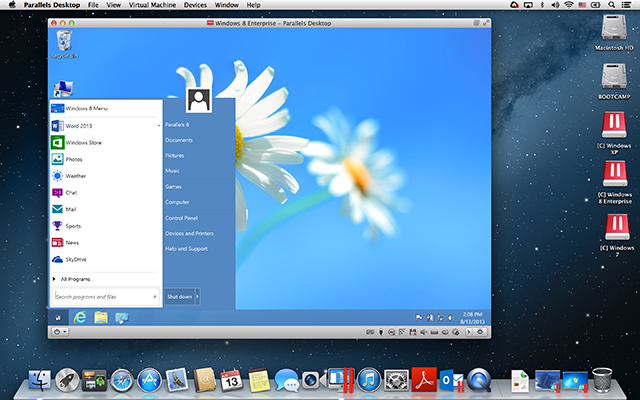 When I first switched to OS X, by way of Hackintosh, I was in pure ecstasy. I loved the interface and the beauty of the programs. For instance, iPhoto is the most intuitive and beautiful photo management program that I've ever used. However, while Apple's operating system met most of my needs, I would still find a need for a Windows program on occasion; mostly for business.
I decided to make my desktop a tri-boot machine. In other words, I decided to have it run three operating systems: Windows 8, Fedora 19 and OS X 10.8.4. Rather than play around with partitioning, I plugged three SSDs into my computer, installed the respective operating systems and used the BIOS as the boot manager.
This was a really great solution for a while. However, every time I wanted to use a Windows program like Internet Explorer (out of necessity, not choice), I had to reboot my computer and leave OS X. It worked but it was not optimal nor productive. And so, I decided to try virtualization software.
Now, I was already familiar with programs like VMware and VirtualBox. However, over the years, Mac users had always spoken very highly of Parallels. I decided now was the time to try it and I obtained the version 8 trial. In my limited testing, I was impressed but it was far from extensive. Coincidentally, version 9 was released a few days later to my surprise. And so, I acquired a full version of Parallels 9 and jumped in.
Upon downloading the software and entering my key, I was presented with a very beautiful and intuitive installation process. I was able to install Windows 8 using my OEM DVD with great success.
When installing, Parallels gives you an option to install a classically-virtualized windowed Windows 8, or a version that runs Windows programs as if they are running natively in OS X. I opted for the classic version and was off to the races. The reason I chose this option is because I did not want to commingle the Microsoft and Apple operating systems any more than I had to.
Impressively, Parallels 9 comes with Modernmix and Start8 free of charge (they normally cost $4.99 each) which is a great value. If you aren't familiar, these two programs allow Windows 8 to have the classic Start-menu and run full-screen Modern apps in a windowed mode. I opted to install these to enhance my productivity.
At the completion of installation, I went into settings to tweak the shared hardware. Since my computer has 16GB of RAM, I dedicated 4GB to Microsoft's OS. I also limited the virtualized operating system to only one of my four CPU cores.
Upon starting Windows, the magic became apparent. It booted and ran extremely quickly. It certainly did not feel like a virtual machine. In fact, thanks to Apple's well-implemented full-screen mode, I was able to run Windows 8 in full-screen with proper resolution. This added to further immersion in the environment. Parallels automatically adjusts the resolution when re-sizing the VM, which keeps the appearance crisp; never blurry or out of focus.
With Windows 8 in full-screen, using Apple's Magic Trackpad, a three-finger left swipe switched back to OS X (a three-finger right swipe brought me back to Windows). This is not a gimmick -- it is truly the killer feature of Parallels 9 -- the switching is seamless. By utilizing Dropbox to share files and Apple's gestures to switch back and forth, it's possible to maximize productivity without effort. The line between Windows and Mac slowly blurred and faded away.
As a Linux fan, I decided to install a Fedora 19 .iso image. While the operating system installed successfully and worked, it was far from the wonderful experience I had with Windows 8. Parallels is simply not optimized for Linux -- the operating system runs extremely slow with poor screen resolution. In the end, I deleted that virtual machine and opted to continue running the Linux distribution from a dedicated SSD.
It is worth mentioning that Parallels 9 comes with a 6-month subscription of Parallels Access for iPad. This lets you run Mac apps using a remote connection as if they were natively on your iPad. This looks like a great piece of software, however, I do not own an iPad to test it. Sadly, during setup, I was not given an option to exclude Access from the process. Now at boot, the additional program launches even though I do not want it. Yes, I can disable it, but I shouldn't have to. Luckily, I am not the only person to complain and the company is already altering the installer to provide choice.
Overall, if you are a Mac OS X user with a need for the occasional Windows app, this is the solution for you. It is full of features and competitively priced at $79. When you factor in the inclusion of Parallels Access for iPad, Modernmix and Start8, it becomes a no-brainer. Sadly, Linux users should probably skip this for the time being.