Innovative Buzzword Word Processor to Come Under Adobe's Wing

The producer of Buzzword -- possibly a game-changing word processor in the Web services field -- has been acquired by Adobe. In so doing, it rejoins the productivity applications market already in progress, and could very well blow that market wide open.
The Waltham, Massachusetts-based Virtual Ubiquity built Buzzword on Adobe's AIR platform, which uses a mix of AJAX, the Flash layout platform, and the Flex language originally developed for Flash by Macromedia, the standard's former parent. Now Adobe may be exercising its option to fully acquire the development firm reportedly founded using Adobe's seed money, with the aim of taking on Google Apps, Microsoft Office Live, and very likely Yahoo in the Web-driven applications space.
"We've been having a lot of fun re-visioning word processing on a new platform," reads a posting on Virtual Ubiquity's company blog today. "And we benefited from being a small, nimble, self-directed entity to get our vision off the ground. However, we also recognize that in order to tackle this crowded and chaotic new market, we need to work with an established software firm to get the kind of stability and market exposure needed to effectively launch Buzzword."
Though Buzzword has only been available in limited tests in recent months, as this company demo shows, its functionality is both straightforward and innovative. Like Office 2007, Buzzword opts not to display the traditional "File | View | Options..." menu bar, using sliding function panels along the top instead.
But unlike the new Office, Buzzword's horizontally-sliding panels are thinner, more concise, and far less cluttered. Functions are presented more colorfully, though they stay in their place without usurping document space. As for the document itself, the one-to-one correlation between display and printout is adhered to much more strictly, with very fluid layout adjustment controls such as scrolls and zooms which emphasize the very convincing display power of the Flash engine.
---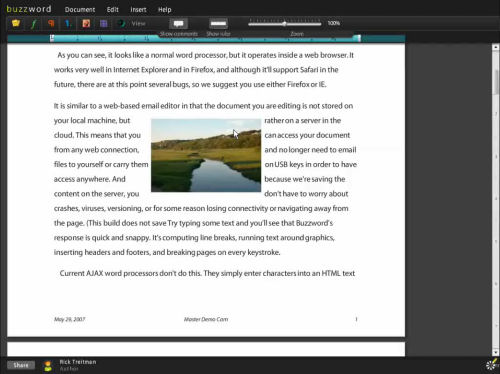 A screenshot from Buzzword, the AIR-based word processor from Virtual Ubiquity that is soon to join the Adobe product line. Here the functionality is represented by a context-sensitive device along the top that's not the Microsoft Office-style menu bar, but that's not the conventional menu bar either. Its aim for elegance may change the whole discussion about productivity applications for the general user.
---
The fact that Buzzword is driven by a Web-based service means it can be used on any system that supports Flash 9, including Windows, Linux, and Mac. Documents created using Buzzword have been stored on the company's server, whose file system accounts for several specifications besides ordinary filenames - for example, principal and contributing authors. Today, Adobe announced its intention to link Buzzword to its new "Share" cross-platform document storage service, which launches almost in tandem with Microsoft's.
While online storage architecture brings up the typical concerns of file system integrity and server system security, it also manages to render moot the main point of contention among alternative word processor vendors: choice of format. Buzzword can export files locally to Microsoft Word format at present; and now that Adobe's directly involved in its development, the program will soon be able to export to OpenDocument Format and PDF as well.
Microsoft may already have seized permanent control of the desktop-based productivity landscape. So if any new competitive market is to emerge, the players will need to find someplace else to play ball, and then make an attempt to move the customer's attention over to the new field of play. Google Apps has been interesting, a little innovative, but also a little soft. Buzzword, on the other hand, could make a genuine case for a serious alternative.