Eee maker Asus to produce Skype's first dedicated phone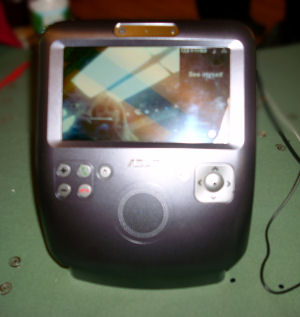 After a premature rollout by Asus earlier this week, Skype gave the first glimpses of Asus' first phone -- a videophone with a built-in webcam -- at events yesterday on both sides of the Atlantic.
NEW YORK, NY (BetaNews) -- Skype celebrated its fifth birthday yesterday by announcing in both New York and London that Asus, maker of the pioneering Eee ultramobile (PC), will produce the first Skype-certified videophone.
In addition to previewing Asus' AiGuru SV1 at a birthday bash in the UK, Skype showed the phone at a Pepcom-sponsored press event in the US.
Earlier in the week week, Asus jumped the gun on Skype's phone launch, first issuing and then retracting a press release about the SV1. Yet on Thursday night, the new phone was plainly visible in Skype's booth at Pepcom's Holiday Spectacular holiday gifts preview in Manhattan, right next to a dish of elaborately decorated birthday cupcakes.
A Skype spokesperson presiding over that company's booth at the Pepcom show told BetaNews that, although the exact date hasn't been decided upon, the SV1 is scheduled to ship at some point in October.
The first phone to be produced by Asus, this standalone device has its own 7-inch, 800-by-400 display, along with Wi-Fi, eliminating the need for a PC connection.
Purportedly aimed at ease of use, the SV1 also integrates a webcam, speaker, and microphone, and is designed mostly for desktop use. Although the device can also be used as a portable videophone, it offers only around 20 minutes of battery life. Expected pricing is about $300.