No time wasted for change to Whitehouse.gov

While President Obama and several million of his fellow Americans were shivering on the National Mall this morning, Macon Phillips and his team were swapping out files and posting the all-new whitehouse.gov.
Phillips is the Director of New Media for the White House and had the signal honor of f1srt p0st!!!1 on the new White House blog.
Phillips reiterates several of the promises previously made by the new Administration concerning community, transparency and participation, including the vow to publish all non-emergency legislation to the web site for five days, so the public can read and comment before the President signs (or vetoes) it. The text of the proclamation of today's National Day Of Renewal and Reconciliation, which Obama signed moments after taking the Oath of Office, is also available for scrutiny.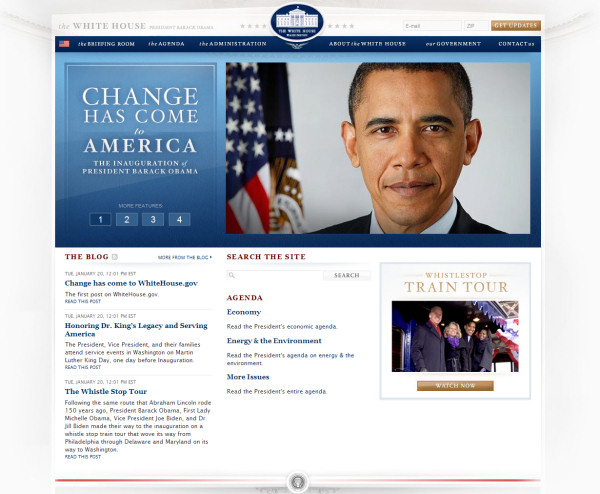 Elsewhere on the site, visitors are promised reports from the press pool, video and slide shows from events, and texts of proclamations, executive orders, and the like -- as well as the new Administration's technology policy, which lists as its first bullet point support for "the principle of network neutrality."
The transition, which was largely accomplished by the end of President Obama's inaugural speech, was smooth and even smart. The ThreatChaos blog notes that the new site no longer allows one to interact with the content management system directly, as one could at change.gov. More change was made evident by kottke.org's comparison of the site's robots.txt files from yesterday (rather lengthy) and today (two lines). Sites use the robots.txt file to shoo search engines away from things the site's keeper does not wish to be seen.