BlackBerry applications finally become a real business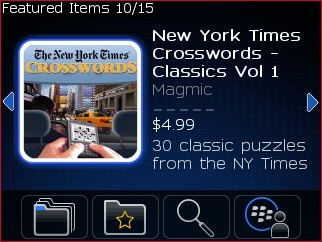 It may not really have the look and feel of a "world" just yet, but let's face it, Research In Motion is a late enough entry into this field that all the really good metaphors have already been taken. Today -- no fooling -- is the first day of BlackBerry App World, which is an application in itself that enables a market for other usable features, for a brand name that does find itself playing catch-up to its rivals these days.
The most appropriate word for the application shopping experience for BlackBerry up until yesterday has been "painful," but this is coming from someone who has built up quite a resistance to being impressed by software. Carriers prefer to set up users' browsers so that the application purchase process goes directly through them, often through their default home pages. So business relationships with major carriers such as Verizon Wireless, more than any other reason, have kept RIM from mounting a respectable challenge to Apple and others up to now.
But the mobile user now expects some kind of app market as a standard feature; and before Microsoft (of all companies) beats RIM to the punch, it's time for RIM to answer the call. BlackBerry App World is relatively painless, which is a refreshing change in itself. There's a primary gallery up front, featuring the major accounts with extra-large icons. Facebook, Google Talk, Yahoo, and Guitar Hero were among the charter members of this gallery; but most users are going to want to jump straight to the catalog of Categories.
Not all BlackBerrys are video capable just yet, especially the really old ones dating back to early 2008 and even older. So rather than find yourself launching a charter subscription to some kind of streaming Netflix service, the #1 slot in the 10-item "Entertainment" category quite literally offers you a way to subscribe to various fart noises. That's right, subscribe.
<!media id=3078 right>Now, this is something that a RIM tester might have wanted to...maybe field-test prior to a premiere day that just happens to fall on April 1. On the one hand, let's say, you have iTunes video on iPhone; and on the other, you have unfortunate bodily noises. Which one makes you want to join in with Gene Kelly and sing, "That's Entertainment?"
The "experience" of finding, reading reviews for, and then downloading an application is straightforward and non-confusing -- and for RIM in recent days, that's actually an accomplishment worth applauding. As an application source for this particular class of devices, App World is the best I've seen thus far. If I'm judging it on its own merits, there's one little functionality recommendation I'd make: When you're searching through a long category ("Games" being the only long category at present), the "Find" field is visible along the top at all times, even when you're scrolling down. However, to use this line, you have to scroll all the way back up to the top of the list so the cursor can jump up. That's not really good design; Find shouldn't be taking up valuable screen space unless you can use it or unless it's being used to qualify what you're seeing in the list right now.
<!media id=3077 right>RIM gets around the problem of handling payments (which can be messy for a Canadian company with numerous American customers) by offloading that task to PayPal. So you need a PayPal account to purchase anything that costs above zero, but you don't need one to actually use the App World program, and you can download free apps (such as InstaMapper's GPS Tracker) without messing with PayPal.
So what needs to happen now? Well, RIM needs to make room for applications that leverage remote server power, such as <!article id="1238104422">Google Voice Search and next month's eagerly anticipated Skype for BlackBerry. The more power you can take off of a customer's application memory and move onto a remote server, the more applications you can sell to that customer.