Rumors gel around a possible BlackBerry Storm sequel

As Research In Motion's first all-touchscreen BlackBerry, and one of the "Big Four" in the touchphone market that has dominated smartphone sales, the BlackBerry Storm is a formidable device.
Director of Research at ChangeWave, Paul Carton, said in a Web conference yesterday, "This market is overwhelmingly dominated by two companies: Apple and RIM." Nearly all of ChangeWave's consumer smartphone survey statistics were dominated by the iPhone and the Storm, and by proxy their US carriers, AT&T and Verizon.
One figure from the company definitely stood out, though: Most people said their next phone purchase is likely to be a BlackBerry. Some 37% of those surveyed said they were either "very likely" or "likely" to buy a BlackBerry, while only 30% said the same of iPhone.
While these figures do not address the Storm directly by name, it is interesting that BlackBerry remains such a strong draw after the Storm was so emphatically panned by the media, and the Bold repeatedly pulled from stores for overheating. Maybe the public is holding out for the Storm to improve in its second generation.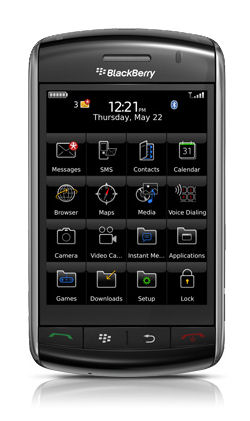 On Monday, SlashGear cited "a source very close to the issue" in saying that the second generation BlackBerry Storm will be released in September 2009, complete with Wi-Fi and an improved touchscreen.
Today, Dutch site Tweakers said the as-of-yet-unnamed "Storm 2" will include, among other things, "a new way of entering text," attributing the information to RIM sales Manager Alain Segond von Banchet.
Both of these refer to the device's clickable touchscreen, which works well for big onscreen buttons, but poorly for a small virtual keyboard. The latter of the two rumors includes the additional claim that the "Storm 2" will be sold through Dutch mobile carrier KPN in addition to Vodafone, the current Storm's exclusive carrier.
The Dutch report did not, however, speculate upon whether this will simply be an incremental upgrade or a fully new handset.