Yahoo earnings down, but this time there's a [email protected])#! plan

No surprises in the Yahoo earnings call on Tuesday, but not much joy either: EPS for the search giant for Q1 weighed in at a feather-light 8 cents, down 29 cents (or 78%, if you prefer) year-over-year. Net income was $118 million on revenue of $1.58 billion.
Also: CEO Carol Bartz dropped the f-bomb near the end of the call. It may not be the most upbeat hour of the earnings-report season these days, but under Bartz's charge Yahoo's calls are, heaven knows, never dull.
The take-no-prisoners CEO -- she kicked cancer's butt, she can do as much for you, pal -- described her first 99 days at the company as "amazing and busy," stating that she has framed three goals to make Yahoo big and strong again: globalizing the platform, investing in the ads business, and rolling out better products for the users. That does not include random investments in non-core businesses, and Yahoo will continue to slim down its portfolio, as they say.
The company also said during the call that it plans an additional 5% staff reduction, which works out to around 700 employees. Most of those staffers will get their notice within the next two weeks.
The quarter ahead doesn't look much better. Blame the seasonal downturns or the economy or what you will, but the company says it expects to bring in between $1.425 billion and $1.625 billion. Income from operations is expected to come in between $80 million and $90 million.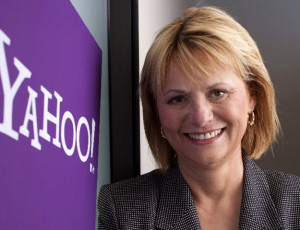 About about that Anglo-Saxon language excursion there near the end: The subject was engineering, or more specifically how the people who actually do something useful at Yahoo are currently crushed under the weight of multiple layers of product managers -- one manager for every three engineers, she estimates. Bartz agrees that it's excessive: "We have a lot of people running around here telling engineers what to do, but no one is f*****g doing anything."
Well put and well observed, most Yahoo-watchers would say -- and if the changes she's shepherding through are going to fix those problems and by extension the bottom line, it's hard to imagine shareholders or anyone else begrudging her some frank language.