Never mind the iPods, there's a new Palm device!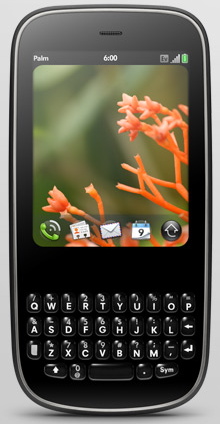 The second WebOS device from Palm, known as the Pixi <!external href="http://www.palm.com/us/"> has officially debuted. Like Palm's other devices, it will be making its debut on Sprint. Palm's Jon Zilber said in the company's official blog <!external href="http://blog.palm.com/">this evening that it will be released in time for the holidays, but did not disclose a price.
Looking something like a Pre in the open position, the Pixi has a slightly smaller 2.63" touchscreen (the Pre's screen is 3.1") but a similarly designed full QWERTY keyboard. With quite a narrow profile, the Pixi ends up being Palm's thinnest phone ever, measuring in at .43" in thickness.
For comparison's sake, the iPhone 3G is .48" thick with a 4.5" x 2.4" footprint. The Pixi has a footprint of only 3.9" x 2.3", so while it is marginally thinner than the iPhone, it also is smaller overall.
Though it is powered by a Qualcomm MSM7627, a processor somewhat slower than the Pre, it carries the same 8GB of onboard memory.
It also has a 2 megapixel flash camera (instead of 3 like the Pre,) built-in GPS, an Ambient light sensor, accelerometer and proximity sensor, Bluetooth 2.1 (but no Wi-Fi), and will be compatible with the Touchstone wireless charger.
Really, it looks like a WebOS Centro, and as we all now know, the $99 Centro was a quiet smash hit for Palm. Unfortunately its margins were so low that its huge sales --well over a million units by late 2008-- <!article id="1206138903">were not enough to make the company profitable. But now that Palm has its upper tier already situated with the Pre, it can reel in customers with the Pixi like it did with the Centro and have some balance on the upper end.
Pre-orders for the Pixi are not yet being taken.
<!image id=3816 center>