Investors to Netflix CEO Reed Hastings: 'We forgive you' a little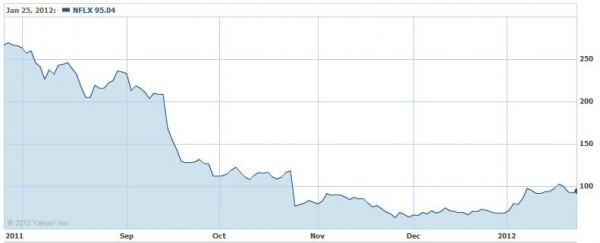 All is forgiven when there's money to be made. That's the message investors delivered Netflix CEO Reed Hastings today. Shares rallied after yesterday's earnings report, which partly validated summer's controversial streaming and DVD rental strategies that sent the stock plunging several times and led to calls for Hastings' removal or resignation. That was oh-so six months ago, which is a lifetime in the memory of an investor.
Shares rose more than 23 percent in early trading -- to $117.12. Netflix closed at $95 yesterday and opened at $114. The price reached $118.78 soon after the opening bell. As I write, shares are bobbing -- now only up 22 percent. Shareholder forgiveness doesn't vanquish Hastings' sins, however. Netflix peaked at $304 on July 13, the day after notifying subscribers of price increases. There remains tremendous share value yet to recover, which is unlikely to come from today's rally.
Following the price increases, Netflix stock started a steady plunge, exacerbated by several events, including the loss of Starz and failed attempt to split the company in two. Shares hit bottom, $62.37 the last day of November.
Investors reacted to several key metrics from Netflix's earnings report. The video streaming and rental service gained more than 600,000 subscribers during the quarter for a total of 24.4 million. By comparison, Netlfix lost 800,000 subscribers during third quarter -- less than the expected 1 million -- related to price increases.
Something else: Yesterday, Hastings made absolutely clear to investors the importance of streaming to Netflix's future: "We expect DVD subscribers to decline steadily for every quarter, forever". Given rising mailing and other costs associated with physical media, the statement encouraged investors about Netflix's future, or so it seems.
But there is still much to forgive, given where Netflix shares were in mid summer.