iPad share plunges as Android tablets make dramatic gains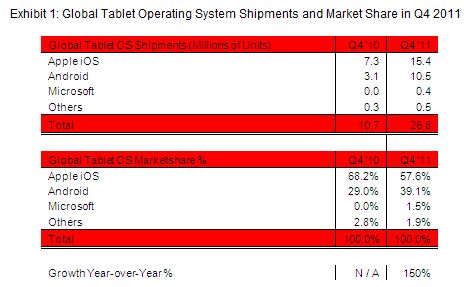 Do I have your attention yet? Apple fans needn't worry, iPad has considerable lead over Android tablets. iPad global market share, as measured by mobile operating system, fell to 57.6 percent in fourth quarter from 68.2 percent a year earlier, according to Strategy Analytics. Meanwhile, Android tablets rose to 39.1 percent from 29 percent. Something else: Windows climbed from zero to 1.5 percent, and that's without tablet-optimized Windows 8.
Despite popular convention that people only want iPad, clearly somebody is buying Android. Strategy Analytics doesn't break down the numbers by vendor, but there's reason to ask about one. Amazon. For months there has been oft-asked question: Would $199 Kindle Fire cut into iPad sales? Last month, Amazon said that it sold over 4 million Kindles in December, but wouldn't specify how many were tablets. "Apple shrugged off the much-hyped threat from entry-level Android models this quarter", Peter King, Strategy Analytics director, says. Perhaps that's answer enough.
"Global tablet shipments reached an all-time high of 26.8 million units in Q4 2011, surging 150 percent from 10.7 million in Q4 2010", King says. "Demand for tablets among consumer, business and education users remains strong". Apple shipped 15.4 million tablets, bringing the total since launch to 55 million.
"Global Android tablet shipments tripled annually to 10.5 million units", Neil Mawston, Strategy Analytics executive director, says. "Dozens of Android models distributed across multiple countries by numerous brands such as Amazon, Samsung, Asus and others have been driving volumes".
Androids got a boost from new models or discounts during fourth quarter. For example, Amazon started selling Kindle Fire near the start of holiday seasonal sales. Verizon cut Motorola XOOM LTE pricing to $199.99 over Black Friday weekend before introducing new XYBOARD models.
"Android is so far proving relatively popular with tablet manufacturers despite nagging concerns about fragmentation of Android's operating system, user-interface and app store ecosystem", Mawston says. To watch now: Whether Android 4.0 -- aka Ice Cream Sandwich -- churns up more Android tablet interest.
For the year, manufacturers shipped 66.9 million tablets, up from 18.6 million -- a 260 percent increase. Strategy Analytics sees tablets cannibalizing netbook sales, and even low-cost notebooks.
Important note: Like most of its competitors, Strategy Analytics track sales into the channel, rather than out to customers. Product shipped doesn't mean product sold.