Camera Awesome for iPhone first impressions review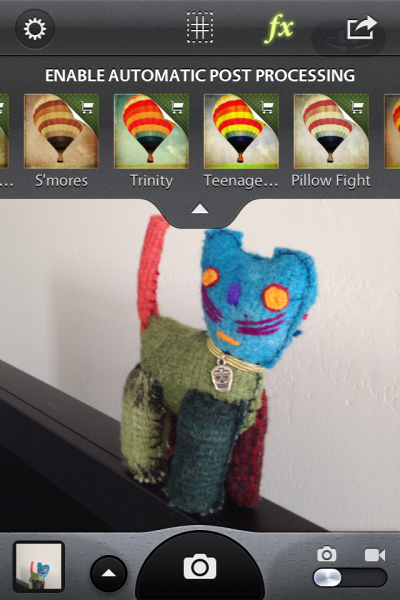 There are few apps that could pull me away from Galaxy Nexus, the current Google phone, to iPhone 4S. But SmugMug's Camera Awesome is close. Real close. If you're an iPhone shutterbug, this app is for you -- or so I believe after a brief test late today.
Photo buffs can find no shortage of apps for iPhone. But Camera Awesome literally lives up to its name, improving the photo-taking process -- not just enhancing images later. The app provides tools for easing image composition, adding effects before or after taking the pic and automatically post-processing your work -- what SmugMug calls "Awesomizing".
I got email about the new app this morning during the Windows 8 Consumer Preview hoopla, when there wasn't time to leave my chair to pee, let alone try something new. Oh, but I wanted to.
SmugMug is a true testament that the Google-free economy hasn't ruined all the Internet. SmugMug is a family-run photo sharing site that charges for its services and is profitable doing so. It's no free ride. The photo services, which cater more to pros, are exceptional, too. What's that axion? You get what you pay for.
This is not a full review of Camera Awesome, since I simply couldn't spend enough time using the app today, but more of a first impression --and, whoa, is it good. If you're looking for a thorough review, I suggest Katherine Boehret's over at All Things Digital, which I deliberately didn't read before conducting and writing about my quick test.
One Helluva Kit
Camera Awesome is free from Apple's App Store, although SmugMug charges for some extras, as I learned when trying to choose a filter before taking a photo. The app isn't for post-processing pics taken using iPhone's camera feature. Rather you take photos from within Camera Awesome instead.
There are so many useful tools, some people might be overwhelmed at first. But they are pleasingly presented in an uncluttered user interface that hides features behind drop-down or pop-up menus. Camera Awesome distinguishes itself right away by letting the photographer set exposure point as well as focal point. In my test photo below, I misunderstood and set the exposure where I wanted the focus, so the kitty's collar is sharp but not his face.
Other useful tools surprised me. There are four for composing photos, such as leveling the horizon or following the rule of thirds. I was simply stunned to see a composition option for following the Golden Ratio, which is one of the best means of composing really good photos. If this app provided nothing more than these great composition tools, I'd rate it a keeper.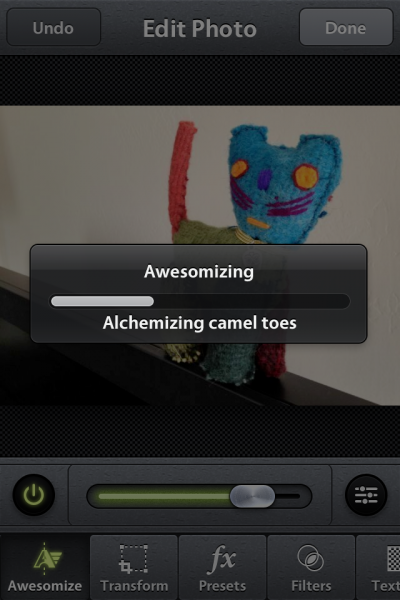 Other options include image stabilization and two burst modes, with SmugMug claiming capability to shoot 9 images in quick succession.
To the Cloud
I used the SmugMug app to "Awesomize" the photo above, but I could have done much more. Camera Awesome presents some nifty effects that can be applied when taking a photo or afterwards. SmugMug provides some for free, but others require in-app purchases. I found this out when trying to apply automatic post-processing presets, which cost 99 cents for nine of them -- they're a bargain. Other goodies include filters, textures and frames, among others.
To my surprise, images aren't stored in iPhone's Camera Roll by default, although there is an option to do this. That's because SmugMug looks to the cloud instead. However, cloud archive also is turned off by default. For people with SmugMug accounts, which cost from $40 to $150 a year, Camera Awesome will archive photos online. But there are options to post -- that is share -- to other services: Facebook, Flickr, Picasa, Photobucket, SmugMug, Twitter and YouTube.
"YouTube?" you ask. Camera Awesome is also video awesome, offering a surprising feature. The big problem with phone video is timing. You see something to shoot, fumble with the video app and the moment is gone. You miss the shot. Camera Awesome captures 5 seconds of video before you even hit record. Well, that's what SmugMug claims. In three sample videos of a digital clock, I didn't see the promised "video time travel" benefit.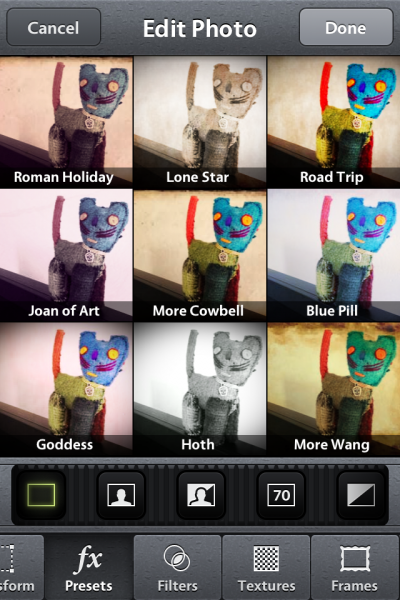 Something else: Those cool composition tools and photo effects are available for video, too. But I simply didn't have time to amply test them.
Aspiringly Awesome
Presentation is everything in photography, and same should be said of promoting photo apps. Now this is marketing. From the Camera Awesome product page:
awesomize [ˈô-səm-īz]
verb
To trick your friends into thinking you're a famous photographer.
How's that for aspirational? Good products make you feel better about yourself, or in this case photos you take.
Well, that's if you've got iPhone. Don't expect to see Camera Awesome on Android or Windows Phone anytime soon. The SmugMug Family loves their Macs and other Apple products. This passion translates to the apps, which favor Apple platforms. Still, SmugMug supports Android, but finds coding for the platform problematic.
SmugMug CEO Don MacAskill tweeted this morning about Camera Awesome: "On Android: It's coming. It's hard. Hardware fragmentation up the wazoo. Insane memory limitations. Ugh. But I want it! So building it!"
For now, Camera Awesome is available from Apple's App Store. The app requires iOS 4.3 or later and supports iPad, iPhone and iPod touch but is not a native iPad app.