Archos unveils new 9.7 inch mass market Android tablet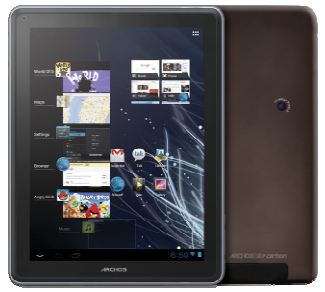 French consumer electronics company Archos on Thursday unveiled the first product in its upcoming "Elements" line of Android tablets, the Archos 97 Carbon.
Archos took its expertise in media and entertainment products and defly applied it to Android tablets three years ago. The result has been a series of enthusiast-level tablets with some totally unique and attractive features. For example, the Archos Stick was a removable USB modem built into the back of the company's Android tablets which could be popped out and used in a PC when it wasn't being used for the tablet's data connection.
Archos also managed to make the Android tablet with the biggest storage capacity by using a 250GB HDD in its G9 tablet last year. In short, the company has done a good job of providing alternative features for niche users.
But with the Elements family tablets, Archos is concentrating on the mass market.
The ARCHOS 97 Carbon runs on Android 4.0 (Ice Cream Sandwich,) and features a 1GHz processor, 1GB of RAM, 16GB of internal flash memory plus a microSD slot supporting cards up to 32GB in size, a full-sized USB Host port, dual front and back cameras, and an overall weight of 21.8 ounces and thickness of less than half an inch. It's priced competitively against the Google Nexus 7 at $249.99, and is expected to be available in retail this month.
This is just the first member of Archos' Elements family, and 7-inch and 8-inch models will be announced in the near future.