Why did Apple announce management shakeup during Hurricane Sandy?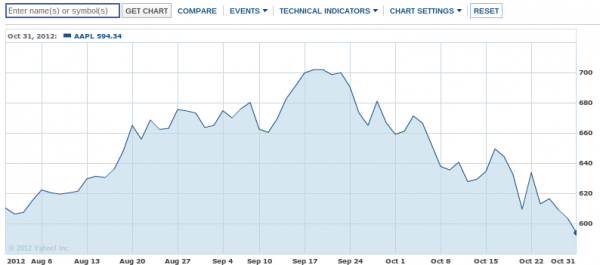 For years I've accused Apple of carefully using product leaks and announcements to benefit its share price. Among the posts, three years ago ahead of iPad's announcement: "Are Apple stock gains the reason for recent tablet rumors?". Rumors often give shares a lift, and bad news sometimes comes when damage can be least. In January 2011, for example, Apple announced that cofounder Steve Jobs would take indefinite medical leave -- during a US holiday when stock markets were closed.
Suddenly, I'm having déjà vu regarding another major Apple management shakeup. On Monday, when stock markets closed because of Hurricane Sandy and announced to remain so yesterday, the Cupertino, Calif.-based company revealed that Scott Forstall will leave next year. I puzzled over the timing. Why now? But I was too busy with other stuff: Google unveiled new Nexus devices and Microsoft launched Windows Phone 8. Busy news day. Only this morning, when Apple shares fell following the market's reopening did the reason hit me like a club. Apple sought to minimize share price damage.
Many Wall Street analysts have called Forstall a Steve Jobs heir apparent and someone who could one day run the company. His influence over iOS development is indisputable and hugely important. During calendar third quarter, iOS devices accounted for 70 percent of Apple revenues. Forstall leaves a huge hole in Apple management, and not the first. The company currently doesn't have a chief operating officer and hasn't since Tim Cook left that role to become CEO more than 14 months ago. If Forstall isn't going until next year, and is on the outs because of personality problems as widely rumored, why announce now? Again, it's the stock.
While high, Apple shares are in state of decline. The six month chart above is quite revealing. In recent trading, after reaching record highs, the stock has fallen below where it was in August. For months, the Apple Fan Club of analysts, bloggers, reporters and other writes raved about shares hitting $1,000, which no longer looks possible.
If last week's big blitz of new products couldn't lift the stock, what can? Apple released the oft-rumored iPad mini, which by the Fan Club's panting should have put a rocket engine under the stock. Nope. Then Apple missed Wall Street consensus on earnings two days later, as well as estimates for iPad shipments.
What should have been a very good month for Apple and its share price has been anything but.
Forstall isn't the only exec out. Retail chief John Browett, whom Cook hired just a few months ago, is finished, too. Both departures, Apple's consensus miss, falling margins, declining iPad sales and mini's high pricing raise concerns about Cook's leadership. Personally, I don't see the situation the least bit worrisome. But I'm not an Apple investor nor jittery, paranoid Wall Streeter. Surely, emotions are rockier this week, given the sorry state of Lower Manhattan following so-called Frankenstorm.
The storm's physical damage may have limited that inflicted on Apple shares. But there's storm enough today, and really continuation of one ongoing since late September. Apple shares opened at $594.49 today, off the previous close of $604. The price fell as low as $587.70 and is still down about 2 percent from the opening as I write. But the stock storm surge is far from over, and it's ongoing. Within the month, Apple set an all-time high of $705.07 a share -- on rumors about new products. Shares are down about 16 percent since then, erasing gains since early August.
But the damage is contained, because investors couldn't immediately react to the news with markets closed yesterday.