Get the Google Nexus 7 calendar app in the Galaxy Nexus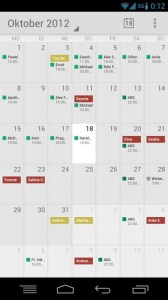 Even though the Asus Nexus 7 and Samsung Galaxy Nexus share the same version of Android and similar display resolutions, some apps are not identical. On the Google-branded Nexus 7 tablet, the Calendar app displays more information, and thanks to the modding community it's now available for the Galaxy Nexus as well.
Instead of the lines in the Calendar app from Android 4.1 Jelly Bean, the modded tablet variant shows a text description for each event of the day, making it a bit more useful.

Two modded versions are available at the moment, with the first based on the Calendar that ships with Android 4.1.2 and the second on the one available as a separate download from Google Play. Both can be used, but only the latter allows users to sync events dating back one full year.
For those that use the Calendar from Google Play, it has to be uninstalled beforehand as it will display no information otherwise. So how does one install the tablet-optimized Calendar app on the Galaxy Nexus? In order to take advantage of it, a custom recovery must be installed beforehand in order to flash the modded Calendar .zip file.
Even though the mod was developed with the Google-branded smartphone in mind, it works on all Android 4.1 Jelly Bean custom Android distributions such as AOKP Jelly Bean Milestone 1, Codename Android or CyanogenMod 10.