Dell XPS 13 Developer Edition lands with Ubuntu 12.04 LTS on board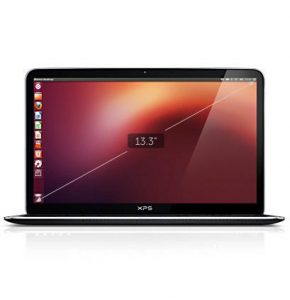 A little more than four months ago, part of the interestingly named "Project Sputnik", Dell announced the XPS 13 Developer Edition which ran popular open source operating system Ubuntu 12.04 LTS. After a long wait, the new laptop is available for purchase today for a not-so-cheap $1,549.
The Dell XPS 13 Developer Edition ships with a 13.3-inch 720p HD display. Processing power is provided by a third generation Intel Core i7 3517U processor that tops out at 3 GHz, an HD 4000 video card, and 8GB of DDRIII RAM. It also comes with a 256GB solid state drive, Wi-Fi 802.11 a/g/n and Bluetooth 3.0. To keep the laptop running off the grid, there is a 47WHr battery which Dell says can deliver up to 6 hours and 13 minutes of unplugged operation.
The XPS 13 Developer Edition also offers a spill-resistant backlit keyboard and an integrated touchpad with gesture support. Other features include a 1.3MP front-facing camera with microphones; two 1.5W speakers; two USB 3.0 ports; one mini DisplayPort and a headset jack.
As previously mentioned, the operating system of choice is Ubuntu 12.04 LTS instead of the recently released Ubuntu 12.10 "Quantal Quetzal". With 12.04, users can take advantage of Canonical's five-year support policy thanks to its LTS (Long Term Support) status. With the latter, Ubuntu's parent company will wrap things up in April 2014.
Considering that Dell's main concern is to deliver a consistent experience across the board without any software issues and updates further down the road, providing an Ubuntu distribution with the longer support life is not a bad call.
Even though Dell aims the XPS 13 Developer Editon at consumers as well as small business and enterprise environments, it's fair to assume that the focus is still on Linux enthusiasts and businesses with unique software demands rather than the average consumer.
All things considered, the price is quite high and it may put off prospective buyers looking to join the open source world for the free software.