Nexus 4 is back in stock, but for how LONG?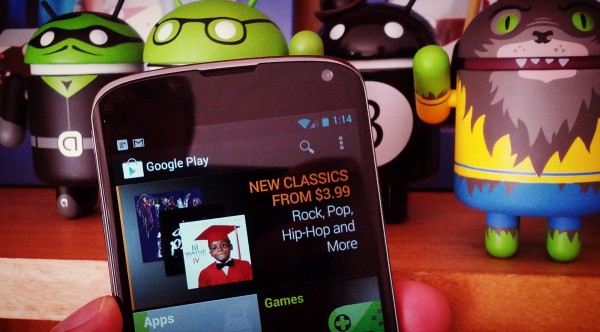 In the United States, Google Play has both Nexus 4 models available for sale -- after nearly two months stocked out. The bumper is available, too. If you're one of the gadget geeks looking for this smartphone, get it while you can, and that might not be for long.
Google launched Nexus 4 on November 13, but sold out in just hours. The phone reappeared on November 27. A day later, Google Play redefined "sold out" by listing shipment date as 8-9 weeks. From a retail distribution perspective, Nexus 4 is pure disaster. It's anyone's guess how many could have sold over the holidays, but greedy gadget geeks couldn't get the phone short of paying extortion-like prices.
But for those who waited, sales resumed today. The 8GB model is $299 and the 16 gigger $349. That's unlocked, which is timely considering that unlocking is now illegal in the United States.
T-Mobile is another option: $200 with two-year contract. On the carrier's no-contract plan, Nexus 4 is $150 down payment plus 20 bucks per month thereafter for total $500. Obviously, Google Play is a bargain by comparison.
Nexus 4 specs: 4.7-inch display, 1280 x 768 pixel resolution, 320 pixels per inch; Qualcomm Snapdragon S4 Pro processor; 2GB RAM; 8GB or 16GB storage (depending on model); 8-megapixel rear-facing and 1.3MP front-facing cameras; GSM/EDGE/GPRS (850, 900, 1800, 1900 MHz), 3G (850, 900, 1700, 1900, 2100 MHz), HSPA+ 21; WiFi N; wireless charging; Bluetooth; NFC; SlimPort HDMI; accelerometer; ambient-light sensor; barometer; compass; GPS; Gyroscope; microphone; 2100 mAh battery; unlocked; Android 4.2. Measures 133.9 x 68.7 x 9.1 mm and weighs 139 grams. Sorry there is no LTE.
As I write, Google Play lists the phone as "ships soon", which isn't exactly the same as "in stock", but as close as you're going to get considering availability so far. Device "ships in 1-2 weeks".
I ordered one for my wife. She takes lots of photos, and after months of use must say the N4 camera is better than Galaxy Nexus, which she has. I'll Craigslist her phone, soon as the other arrives. I hope that with Galaxy Nexus in excellent condition, spare battery, charger and extra back cover that selling price will cover most of the cost buying her Nexus 4.
Nexus 4 isn't my favorite Google phone, but it has grown on me since my first-impressions review. I'll do a follow-up sometime soon.
I got to ask: Will you buy Nexus 4?
Photo Credit: Joe Wilcox