Ubuntu countdowns to tablet time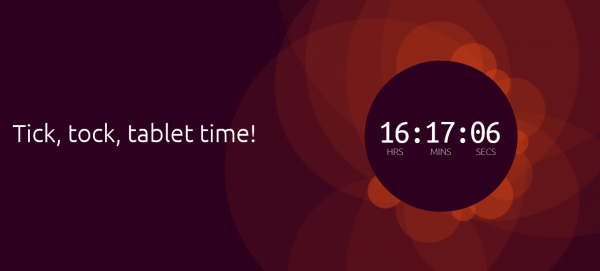 Earlier today, colleague Wayne Williams wrote about Canonical plans to publish images and open-source code for the Touch Developer Preview of Ubuntu for Galaxy Nexus and Nexus 4. Look for them Thursday. Meanwhile, Canonical prepares another trick, posting a countdown clock to "tablet time". Oh my.
In October 2011, Canonical CEO Mark Shuttleworth promised Ubuntu would appear on smartphones, tablets and TVs. The company formally announced the smartphone OS in January, with plans to make it available for older Android handsets, at the least. I wonder if Canonical would take a similar approach to tablets.
Ubuntu for Android is another Canonical project. A docked phone -- to monitor and keyboard -- launches Ubuntu in tandem with Android, sharing the same kernel (and requiring at least dual-core processor). It's a neat trick.
Whatever the tablet plans, Canonical isn't tying Ubuntu's future solely to the PC. The promise in tablets is huge, surpassing notebooks for the first time. NPD DisplaySearch forecasts that 240 million tablets will ship this year, compared to 207 million laptops.
In December, Shutterworth laid out his vision for Ubuntu, and the Unity user interface, in 2013:
Unity in 2013 will be all about mobile -- bringing Ubuntu to phones and tablets. Shaping Unity to provide the things we've learned are most important across all form factors, beautifully. Broadening the Ubuntu community to include mobile developers who need new tools and frameworks to create mobile software. Defining new form factors that enable new kinds of work and play altogether. Bringing clearly into focus the driving forces that have shaped our new desktop into one facet of a bigger gem.

It's also why we'll push deeper into the cloud, making it even easier, faster and cost effective to scale out modern infrastructure on the cloud of your choice, or create clouds for your own consumption and commerce. Whether you're building out a big data cluster or a super-scaled storage solution, you'll get it done faster on Ubuntu than any other platform, thanks to the amazing work of our cloud community. Whatever your UI of choice, having the same core tools and libraries from your phone to your desktop to your server and your cloud instances makes life infinitely easier. Consider it a gift from all of us at Ubuntu.
Google and Microsoft tout similar aspirations across devices connected to the cloud. What does that mean for tablets? We'll know tomorrow.