Google Q1 2013 by the numbers: $13.97B revenue, $9.94 EPS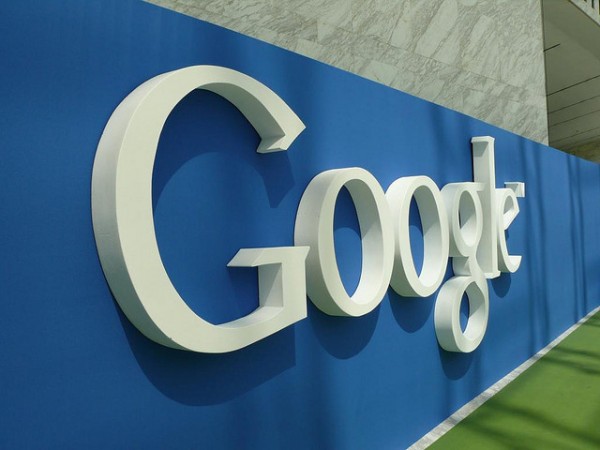 Google may be a company of many personalities -- browser and operating system developer, connected-device manufacturer, fiber-optic Internet servicer, search giant and social network, among many others. But the core business is still about one thing: Advertising, as calendar first quarter results, delivered today after the closing bell, show.
Revenue rose 31 percent to $$13.97 billion, year over year; operating income, excluding Traffic Acquisition Costs, was $3.48 billion, up from $3.39 billion. Net income climbed to 3.35 billion up from $2.89 billion. That's $9.94 earnings per share, including costs associated with discontinued operations.
Average analyst consensus was $14.04 billion revenue and $10.69 earnings per share, for the quarter. Revenue estimates ranged from $9.81 billion to $15.12 billion, with estimated year-over-year growth of 72.5 percent.
"We had a really strong start to 2013, with Q1 revenue up 31 per cent year-on-year to $14 billion", CEO Larry Page says. The statement, like the others below, came during Google's conference call today.
Turn the Page
First quarter marks just a few days short Larry Page's second anniversary returning as CEO (April 4). Google's master had a busy quarter. The company:
That's just a short, short list of the many strategic actions or adjustments made in just one quarter.
There is clear consolidation underway as the CEO brings trusted executives -- those with whom he resonates or who share his vision -- closer to the inner circle. Meanwhile, a different Google emerges as Page's vision, and that of his lieutenants, propagates -- one that: cross-integrates more products and services, releases updates at faster pace and is much, much, much more aggressive in the market place. The Google you thought you knew is something else.
Page hints at that:
As CEO it's also super important to keep focused on the future. Companies tend to get comfortable doing what they have always done, with a few minor tweaks. It's only natural to want to work on things you know. But incremental improvement is guaranteed to be obsolete over time -- especially in technology, where history has shown that there's a lot of revolutionary change. So a big part of my job is to get people focused on things that are not just incremental.
He also tips off some things coming from the Motorola division by observing device battery life needs to greatly improve; "if your kid spills their drink on your tablet, the screen shouldn't die"; and dropping a phone shouldn't shatter the glass.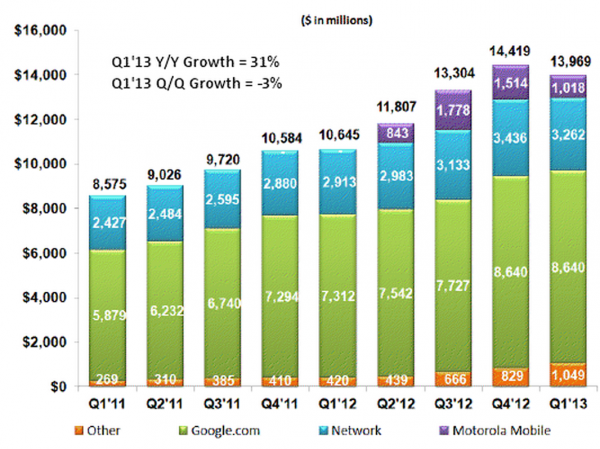 "Having seen Motorola's upcoming products myself, I am really excited about the potential there", he says. "In just under a year they've accomplished a lot and have impressive velocity and execution".
Financial Highlights
TAC. Google's financials include Traffic Acquisition Costs -- that's revenue shared with partners. For Q1: $2.96 billion, compared to $2.51 billion a year earlier. TAC was one-quarter of revenue in both quarters.
Paid Clicks increased 20 percent year over year and 3 percent sequentially.
Cost-Per-Click rose 4 percent yearly and quarterly.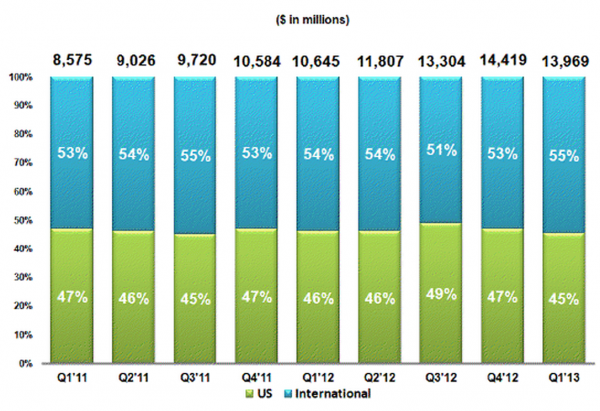 International: $7.5 billion outside the United States, accounting for 55 percent of revenues -- that's up 1 percent by year and quarter.
Motorola Mobile revenues reached $1.02 billion, or 7 percent for consolidated Google results.
Google revenue (excluding Motorola) was $12.95 billion -- that's up from 22 percent from $10.65 billion a year earlier.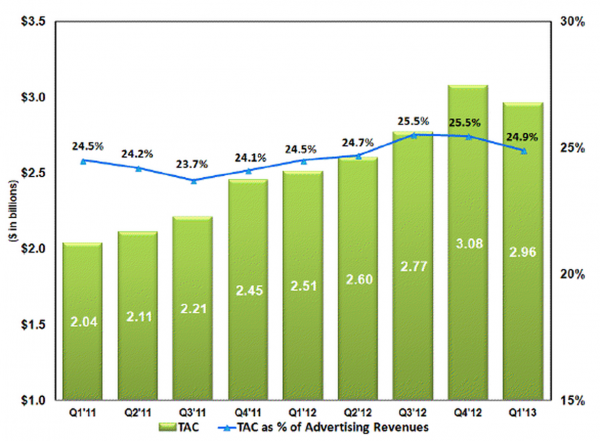 Google-owned sites: $8.64 billion, up 18 percent from $7.31 billion.
Google Network (e.g., partner sites): $3.26 billion, up 12 percent from $2.91 billion.
Other: $1.05 billion, up 150 percent from $420 million.
Photo Credit: meneame comunicacions, sl