Windows 8 is such a failure Microsoft sells 100M licenses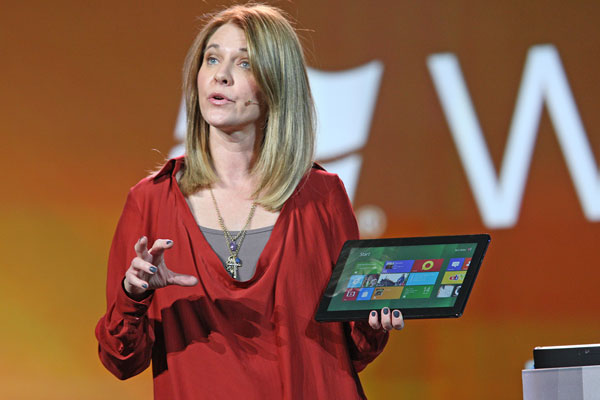 Judging by all the heavy criticism hitting the interwebs each day one would rightfully assume that Microsoft is on the wrong path with Windows 8. The operating system is often blamed for declining PC shipments, an user interface designed only for touchscreen devices or a scarce Modern UI app ecosystem filled with knockoffs. So, therefore, Windows 8 must be a clear sales miss, right?
Today, Tami Reller, Windows & Windows Live CFO, boasts about 100 million Windows 8 licenses, a figure which does not fall in line with what every naysayer leads you to believe. "This number includes Windows licenses that ship on a new tablet or PC, as well as upgrades to Windows 8. This is up from the 60 million license number we provided in January. We've also seen the number of certified devices for Windows 8 and Window RT grow to 2,400 devices, and we're seeing more and more touch devices in the mix".
That sales figure is an astonishing feat. Assuming that Microsoft charges an average of $30 per license -- a number suggested by my colleague Joe Wilcox -- Windows 8 generated $3 billion in revenue. That number is likely higher considering that the $15 upgrade offer ended in late-February, more than two months ago, so basically every version is available at full-price ever since. Really, $3 billion is nothing to sneeze at.
As usual, Microsoft does not provide a sales breakdown between upgrades to Windows 8 and new devices offered with Windows 8. That leaves room for interpretation, suggesting that a significant part of the 100 million licenses sold thus far comes from upgrades.
In Q1 2013, PC manufacturers shipped a tad over 76 million units, a number that includes devices running operating systems other than Windows 8 such as Windows 7, OS X and Linux-based distributions. The same applies to the little over 90 million PC shipments from Q4 2012. At the time, devices with Windows 8 (due to its early vintage) were likely fewer than those running other operating systems. And, despite declining shipments, Microsoft still thinks the PC is here to stay.
"The PC is very much alive and increasingly mobile", Reller says. "The PC is also part of a much broader device market of tablets and PCs. Windows 8 was built to fully participate in this broader and increasingly mobile device market. The PC part of the market is rapidly evolving to include new convertible devices and amazing new touch laptops, and all-in-ones".
Reller says that the number of apps available in the app store increased six fold since Windows 8 launched. Over the course of six months (presumably since the consumer release), app downloads exceeded 250 million. Also, users have downloaded nearly 90 percent of the Windows Store apps each month. The last figure should encourage developers to take more interest in Windows 8/RT.
Reller also discusses Windows Blue. The Windows 8 update "will provide more options for businesses, and give consumers more options for work and play. The Windows Blue update is also an opportunity for us to respond to the customer feedback that we've been closely listening to since the launch of Windows 8 and Windows RT. From a company-wide perspective, Windows Blue is part of a broader effort to advance our devices and services for Microsoft".
Windows Blue arrives later this year and will be available "across an increasingly broad array of form factors of all sizes, display, battery life and performance". That falls in line with the plans to offer "a new suite of small touch devices powered by Windows", revealed by Microsoft nearly four weeks ago.