Samsung Series 5 Chromebook first impression review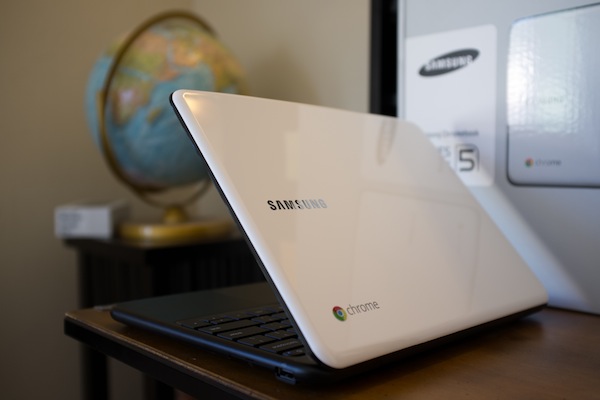 The Samsung Series 5 Chromebook isn't instant-on. Don't believe any marketing messaging suggesting it. I had to wait an agonizing 4 seconds when flipping the lid before the Chrome logo appeared -- first bootup out of the box.
Instant On, Instant Setup, Instant Update
Seriously, when was the last time you had that kind of experience? I can say never. If this is the future of computing -- near instant-on -- sign me up. Flipping the lid and getting down to work or play, without waiting, is liberating. I got some of that experience using the 11.6-inch MacBook Air, which is instant-on from sleep, but not from cold boot. Similarly, the Series 5 starts quick from sleep, but not instantly in my testing. Close. It's about 1.5 seconds -- and that's wirelessly connected to the Net.
Samsung's Chromebook, like the Acer Chromia, goes on sale June 15. I received a two-week loaner yesterday. Since I extensively reviewed the beta Cr-48 Chromebook and the Series 5 goes on sale so soon, I decided to offer a quickie, first-impression review. My first impression will be different from most peoples' because Chrome OS and the Chromebook concept are familiar to me.
Setup was amazingly fast. Chrome first prompted for wireless network, and I connected after entering the password. Next, I typed in my Google account ID and password, and the browser opened in seconds. But what came next was foreboding. The browser opened to a tab with trackpad tutorial. When have you ever needed one those? The Cr-48 had a troubled trackpad that got better with a software update but still lagged a little. Sadly, the Series 5 trackpad is a bit hokey, and that's even after I went into the settings and adjusted sensitivity. It's not terrible, but the out-of-box experience is disturbing. Perhaps with a little practice, the trackpad and I will get along fine.
After I went through the brief, four-step tutorial, I was ready to work. Surprise, surprise, Chrome already had synced my bookmarks and other settings, including web apps. That meant I was ready to work. Instant-on is a nice perk, instant setup goes to a whole other dimension of computing. Imagine opening a laptop for the first time and getting to work within just a few minutes. There are no apps to install because they load from the web and the browser syncs them up from Google's cloud. Instant setup is simply transforming. Mac OS X and Windows both demand time-consuming transfer of apps and data. Chrome OS makes it all available immediately.
There's another instant benefit: Instant update. Chrome and Chrome OS are both on fairly accelerated development schedules. That means Google will deliver new features every few months (if not sooner) rather than Microsoft's every few years for Windows. Updates apply automatically, as soon as they're available.
The Series 5 Chromebook is a comfortable size, although a little heavier than I expected for a laptop without an optical drive. The laptop weighs 1.5kg (3.3 pounds) and measures 11.6-inches wide by 0.8 inches high by 8.6 inches deep. The screen is 12.1 inches measured diagonally and it's matte finish. I had to adjust, having become accustomed to a glossy display. I find the 300-nit brightness to be more than acceptable, but not exceptional. Then again, I consider the MacBook Air display to be too bright.
The keyboard is pleasing to touch, and I find typing to be quick and comfortable. If only the trackpad was as good as the keyboard. Overall this is one the most comfortable notebooks in terms of its overall dimensions, size and responsiveness of the keyboard and crispness and clarity of the display.
What about Flash?
But there was something I had to check before anything else. Adobe Flash. My colleague Larry Seltzer asked Betanews readers if he should get a Chromebook for his daughter. The reasoning: She spends 90 percent of her time on the web anyway. Well, hell, he can't expect the kid to write in Google Docs all the time. She's got to be able to play games and watch TV shows, for which the latter Flash Video would be important. The performance was so-so at best on the Cr-48. So I was prepared to be disappointed.
<!image id=7139 center>
I opened a tab to Hulu and clicked on the season two opener for USA drama "Covert Affairs." Hulu auto-selected 360p playback, despite my 24Mbps broadband. At full screen, the video was crisp, clear, colorful and contrasty. Playback pleased, overall. However, there were definitely dropped frames, which I noticed -- but they didn't overly disturb. Switching to 480p didn't noticeably improve video quality but it did increase dropped frames. But, again, watching was satisfying. When Flash Video goes to hell, the frame simply freezes or jumps between still shots while the audio continues. I saw none of the free-frame behavior.  Flash Video on the Samsung Series 5 Chromebook passes the good enough test. Something else: Watching streaming video didn't trigger the fan, nor did the laptop get perceptually hot, unlike the Cr-48.
Before getting down to business -- and thinking about Larry's fourth grader -- I moved on to Angry Birds, which is available as a web app for Chrome and Chrome OS. Installation was so quick, I couldn't blink fast enough. If two seconds passed, I'd be shocked. I played the HD version, which wasn't exactly speedy but definitely was smooth. I played through level 2 so that I could get back to this first-impression review.
Because of hazardous Flash performance (use at the risk of failure), I couldn't test enough of Chrome OS' digital media capabilities on the Cr-48, which is why I looked there first before trying out other applications on the Series 5. There are two other essential points to consider: Google is looking for consumers or businesses to dramatically change their computing behavior by working in the browser and largely keeping their data and apps in the cloud. As such, Chromebook largely requires a constant Net connection. There is little that can be done offline (but not nothing).
For Millennials, who are likely accustomed to the browser and constant Net connection, Google isn't demanding much from them. But demands would be great if they couldn't listen to music, watch videos or play games. These activities are also important because students are one of Chromebook's target markets. Google is offering subscription programs for businesses and schools, something more commonly seen for software than hardware. Student subscriptions cost $20 per month -- $28 for businesses.
The loaner I have sells for $499.99 with WiFi and 3G. Another, without 3G, is $429.99. Samsung sent the Arctic White Series 5 Chromebook, which is beautiful. The laptop's appeals as much as anything else for the simplicity of the design.
By the Specs
Many readers will wonder about other hardware, such as processor, memory and storage. I want to qualify something first. Too many techies have been conditioned by Intel and PC OEM marketing to focus on faster and more. These two attributes don't necessarily make a computer better. "Is there enough what the user needs?" matters more. That's about there being a good balance between hardware and software capabilities. My initial experience suggests balance, but I want to stress the Chromebook more before professing it's all good enough.
<!image id=7140 center>
What you get: 12.1-inch LED display with 1280 x 800 resolution and 16:10 aspect ratio; 1.66GHz Intel Atom N570 processor; 2GB DDR3 memory (not expandable); 16GB solid-state storage; integrated NM10 graphics; ALC272 integrated audio; stereo speakers (which in my tests deliver surprisingly rich sound for the class of machine); internal microphone; 1-megapixel webcam; WiFi N; Verizon 3G (on higher-end model); headphone/Mic jack; two USB ports; 4-in-1 memory card reader (SD / SDHC / SDXC / MMC); and 6-cell battery (with stated life of 8.5 hours). I was disappointed to find no Bluetooth, but was surprised to find a 4GB SDHC card in the box (which I assume Samsung tossed in for reviewers).
As stated many paragraphs above, the Samsung Series 5 Chromebook goes on sale June 15. I could write more about Chrome OS, but I've done that previously in seven parts and then updated after my MacBook Air fatally crashed. But I do plan to do a follow-up review, focusing more on using the operating system. It's one thing to use beta software on testing hardware and something altogether different to use final code on shipping hardware.
The Samsung Chromebook won't be for everyone, but it's got appeal for anyone looking for instant-on, instant setup and instant updates. But it's not for most Betanews users, apparently. Last week I asked: "Will you buy Google Chromebook?" More than 73 percent of respondents answered "No."