Would you pay $650 for Moto X Developer Edition?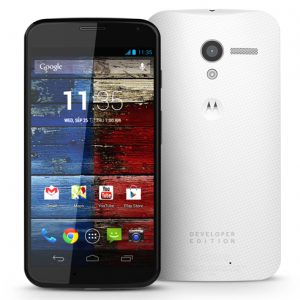 I just have to ask, because the price irks me.
Late this afternoon, Guy Kawasaki, Motorola's chief evangelist, posted to Google+ that Moto X "Developer Edition now available". I've been waiting for this, being on T-Mobile, which doesn't directly sell the handset. But the phone isn't available for me, or likely you. Verizon model is $649.99. GSM X is "coming soon", presumably for same price. While the phone packs an "unlockable bootloader" and is contract-free, price busts my budget, particularly considering one major benefit -- personalized appearance -- isn't available.
So I wonder who else feels the same way, or instead sees value for the price -- same as iPhone 5s 16GB, but with twice the storage, and HTC One and Samsung Galaxy S4 Google Play editions. I want to know who would, or wouldn't, pay $650 for Moto X.
AT&T sells the personalized Moto X, with choice of 18 back covers, for $199 with two-year contract. No other carrier offers this benefit, which for a short time is exclusive to AT&T -- a strategy I lambasted three weeks ago. With a colorful option available for $200 bucks, even locked and contract-bound, $650 black-and-white model is tough to swallow. I would be more excited if Motorola offered personalization.
Still Moto X's touchless interaction changes everything. The phone is the metaphor for next-generation computing user experience. Voice-command eliminates the need to touch the device -- you can do whatever else with hands available -- and voice response is more human-like and personal.
"Motorola's flagship phone promises an amalgamation of Star Trek-like features, such as always-on voice response", I explain in my book The Principles of Disruptive Design. "iPhone fundamentally changed how people interact with mobile handsets, creating intimacy via touch. Motorola, the company that invented the cell phone, tries to reinvent the smartphone, by replacing touch, and may succeed, much as Apple did".
Don't Sweat Specs
My problem isn't specs, such as dual-core processor or 720p display. I've only used Moto X in stores and can see the difference watching video in 720p versus 1080p. But text and other visual elements pop. The Moto X screen is among the best I've ever seen on a smartphone.
Googlorola put the engineering into other benefits that matter more. Why do you need a 1080p screen if you're looking at the display less? Think about it. Voice response changes everything. Information at command rather than fingertips is huge.
Selling the benefits is the problem I see, because, like TiVo in the early DVR, days, most people won't get the concept without using the device. Now DVRs are standard on cable boxes. That's the likely future of these contextual features/benefits, too.
Don't confuse features and benefits, as most people do. The holder Starbucks puts around your coffee cup is a feature. Keeping your hand from burning is a benefit.
Value is another benefit. For some developers, the unlocked bootloader is valuable enough for $650. Other people will want the phone but not a 2-year contract. I already have HTC One, which truly satisfies, and I expect Nexus 5 to ship sometime soon for considerably less cost. But the savings probably means giving up touchless benefits that make Moto X special.
I'm undecided but tempted. You? Would you spend $650 for Moto X Developer Edition? Please take the survey and answer in comments.