XP users feel no great rush to upgrade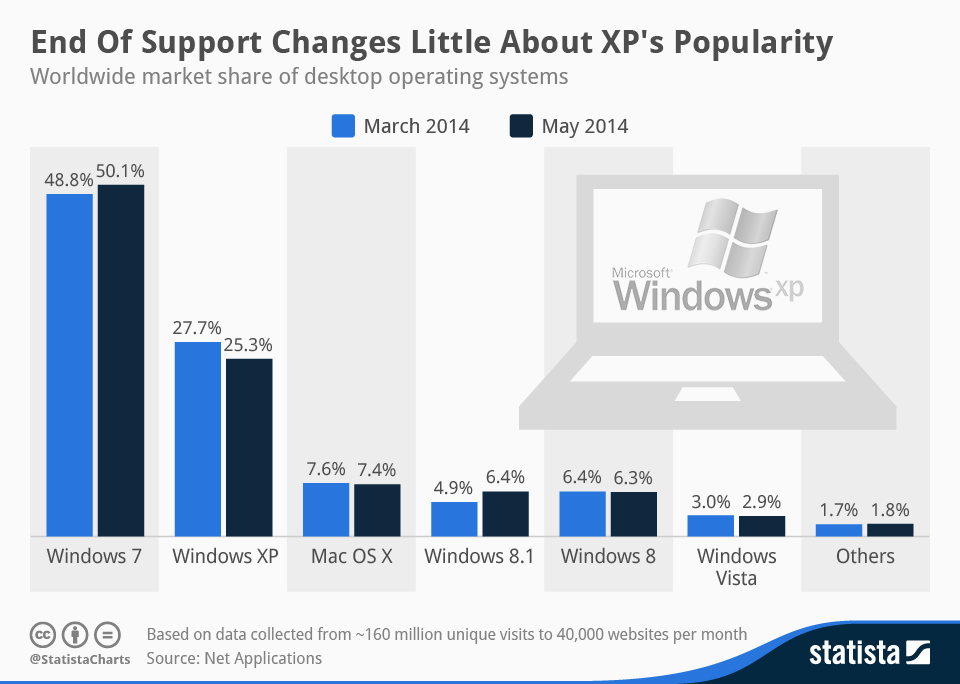 If Microsoft expected XP users to desert the aging OS once support officially came to an end, the tech giant will no doubt have been sorely disappointed. Although XP's market share has fallen in the two months since it reached end of life, the 13 year old operating system remains hugely popular.
According to Net Applications, from March to May, XP lost just 2.42 percent market share, and is still to be found on over a quarter of all Windows systems. Windows 7 gained 1.29 percent in the same time period, to break the 50 percent barrier, and Windows 8.x increased its share by 1.34 percent for a not so grand total of 12.64 percent. Statista has put together a little graph showing how little end of support has changed XP's popularity.
You could look at the numbers and say if XP continues to fall at the rate it currently is, and Windows 8.x continues to gain market share at the same rate it has over the past two months, that by the end of the year new Windows could have overtaken old Windows, but in reality I think what will happen is XP will stabilize and migrations will slow once users stop worrying about the risks of running an OS without security support.
Last month's Internet Explorer vulnerability might have forced more users to move on from XP, had Microsoft not opted to issue an out-of-band security update covering the older OS (which was the right thing to do in my opinion). That action may be a one off, it may not -- it will depend on the seriousness of future flaws -- but it will certainly have comforted some XP users and maybe convinced them to hold off upgrading for just a while longer.
The truth is, if you're still using XP after all this time and haven't been tempted by Vista, Windows 7 or 8.x, you're probably not going to be rushed into upgrading by something like a lack of security updates. In fact, the two XP users I personally know don't usually bother to install any updates. One told me, "I think after thirteen years they've probably found all the really bad bugs by now anyway".
If you are still using XP, there's always this way of getting free security updates, although Microsoft would rather you didn't.