Average US internet speeds -- how does your state compare?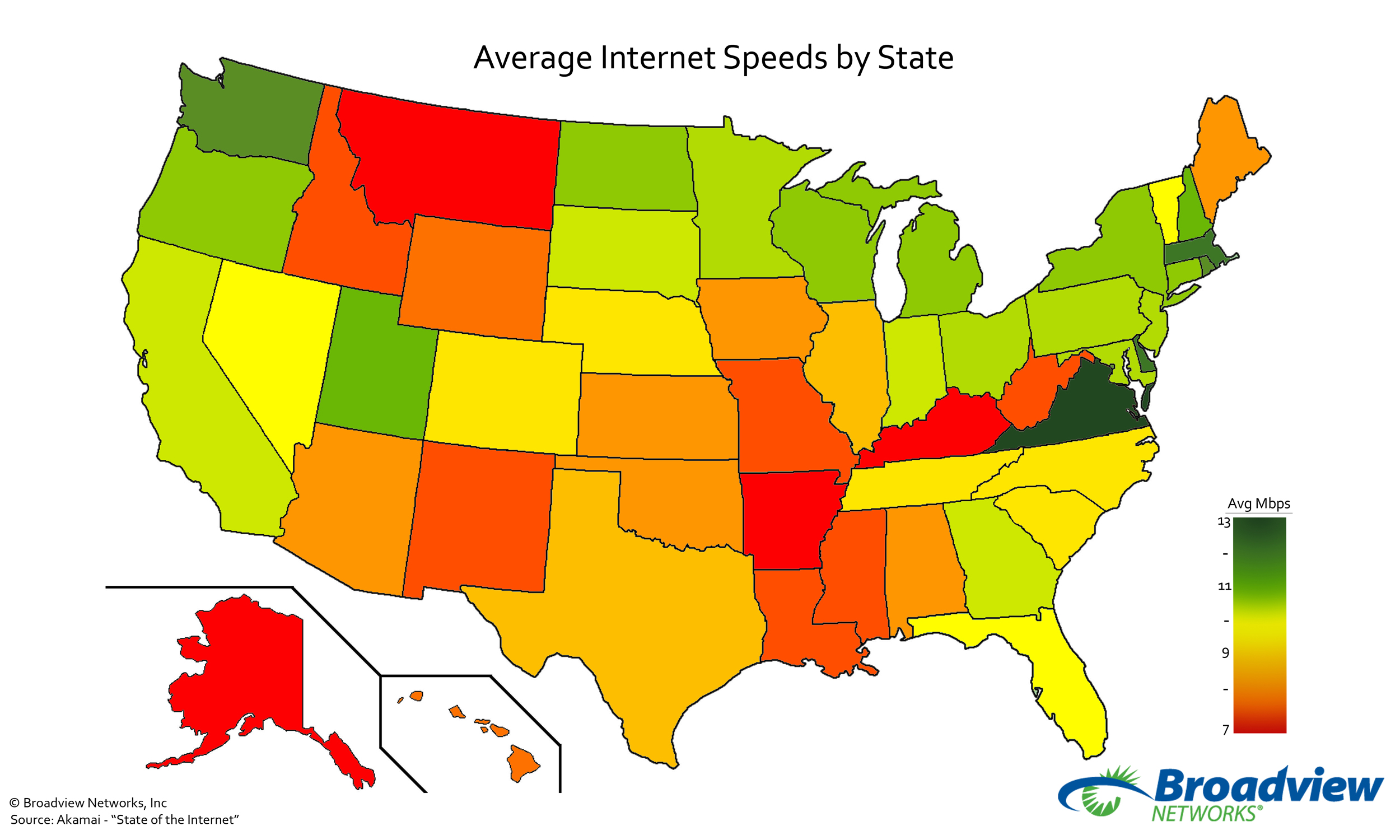 While my colleague Mark Wilson endures glacially slow internet, I'm lucky enough to be on a super-fast 100Mbps connection (but even that's a bit slow for me -- I'll be upgrading to 152 Mbps early next year).
The average connection speeds for most internet users is a lot slower, but getting better. Broadview Networks took a look at the average internet speeds in America, and listed the results by state, showing average speed in Q1, and comparing the results quarter-on-quarter and year-on-year.
The company used Akamai's "State of the Internet" Report to work out the figures for each state and then plotted the results on a map. Dark green states have the fastest speeds and those in red have the slowest. According to Broadview Networks' findings, Virginia has the fastest internet service in the country (13.7Mbps on average ) while the residents of Alaska have the slowest (7Mbps on average).
The Northeast has some of the fastest speeds in the nation, while the Midwest and less populated states have generally slower speeds.
The full list of results is below. How does your internet speed compare?
State by State Breakdown
State
Q1 '14 Avg Mbps
QoQ Change % (Q1 '14 vs. Q4 '13)
YoY Change % (Q1 '14 vs. Q1 '13)
Virginia
13.7
-4.3
30
Delaware
13.1
6.3
18
Massachusetts
13.1
2.6
22
Rhode Island
12.9
11
35
D.C.
12.8
5
18
Washington
12.5
8.5
29
New Hampshire
12.3
4
6
Utah
12.1
6
17
Michigan
11.8
13
42
Connecticut
11.7
7.2
18
North Dakota
11.7
14
27
Oregon
11.7
5.2
36
Wisconsin
11.5
9.2
45
New York
11.5
3.5
18
Maryland
11.3
3.7
58
Pennsylvania
11.3
6.3
23
Ohio
11.2
40
19
New Jersey
11.2
2
26
Minnesota
11.1
8.8
38
California
10.9
4.1
27
South Dakota
10.8
12
31
Georgia
10.7
21
57
Indiana
10.7
7.4
32
Vermont
10.2
5.7
-17
Nevada
10.1
16
40
Florida
10.1
4.4
36
Tennessee
9.9
7.4
30
Colorado
9.7
5.9
28
South Carolina
9.7
5.3
21
North Carolina
9.7
4.8
15
Nebraska
9.5
10
43
Texas
9.4
6.3
29
Illinois
9.2
5.7
21
Alabama
8.9
10
39
Oklahoma
8.9
8.1
30
Iowa
8.8
4.9
33
Maine
8.7
7.8
20
Arizona
8.7
1.1
30
Kansas
8.6
7.2
91
Hawaii
8.4
3.6
31
Wyoming
8
8.3
23
Idaho
7.7
9.5
60
Louisiana
7.7
-1.9
38
Missouri
7.7
7.6
26
New Mexico
7.6
1.9
22
Mississippi
7.6
7.3
34
West Virginia
7.5
6.1
29
Montana
7.3
9.1
25
Kentucky
7.3
5.8
23
Arkansas
7.3
8.4
69
Alaska
7
7.8
33