ASUS C300 Chromebook Review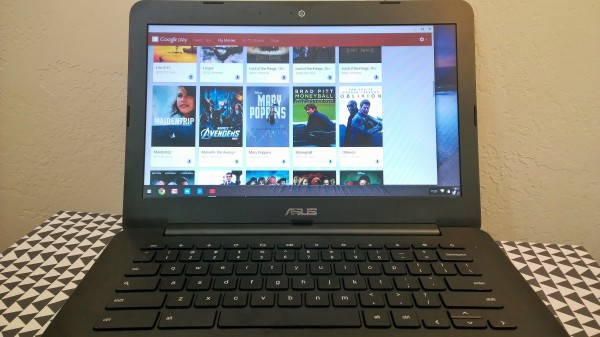 This summer, I took a break from Chromebook, to conduct an experiment going "Microsoft All-In". After using the browser-based concept for about two years, I even gave up Google products and services for awhile. What terrible timing! There's a sudden shift in the winds, as Chromebook heads away from x86 and towards destination ARM and competing Intel processor Bay Trail. These lower-power consumption, lower-heat producing chips also illuminate new Chromebook form-factors: 13.3-inch displays. The first of these -- from Acer, ASUS, and Samsung -- started shipping in June, July, and August. I tested the ASUS C300.
Like the other two manufacturers, ASUS offers Chromebooks with 11.6-inch and 13.3-inch screens. I review the larger laptop. Both compete with the ARMs by adopting Intel's Bay Trail processor, which offers similar benefits and performance pitfalls. There's nothing exceptional about the C300, which strangely is a benefit. The laptop's attributes are quite balanced -- design, performance, and price.
Unusual Approach
Samsung shipped the first ARM Chromebook in October 2012. Its successor, HP Chromebook 11, using the same microprocessor, released a year later. Samsung's followup, Chromebook 2, uses faster home-grown ARM chip, while Acer adopts one made by Nvidia. The C200 and C300 use the same Bay Trail processor, which benefits mimic ARM without changing chip architectures.
ASUS takes an unusual approach to pricing. In marketing, the typical tactic is to use features and price to push sales upward. The buyer can get features A, B, C, D for Price X or E, F, G, H for Price X+Y. The two C Series models cost the same, and features are nearly identical except for physical size and the screens -- glossy and 11.6 inches for the C200 and matte and 13.3 inches for the C300. The strategy is a refreshing change and focuses the buyer on benefits relating to size and portability, while removing different prices as a distraction. I'm a fan of this benefits-first approach.
ASUS sells the most affordable Chromebook among the 13.3-inchers: $249.99, compared to $279.99 to $379.99 for the Acer and $399.99 for the Samsung. If price matters more to you, the C300 is the value-performer among the three.
Comparative Specs and Pricing
ASUS C300: 2.16GHz Bay Trail-M Dual Processor N2830 processor; 13.3-inch display (matte), 1366 x 768, 200-nit; 2GB RAM; 16GB SSD; SD-card slot; webcam; one each USB 2.0 and 3.0 ports; WiFi AC (after software update); Bluetooth 4.0; HDMI port; Chrome OS. Weighs 3.1 pounds (1.4 kg) and is 0.9 inches thick. Price: $249.99.
Acer Chromebook 13: Nvidia Tegra K1 4-Plus-1 quad-core processor; 13.3-inch display, 1366 x 768 (200-nit brightness) or 1920 x 1080 resolution (250-nit brightness); 2GB or 4GB RAM; 16GB or 32GB SSD; SD-card slot; webcam; two USB 3.0 ports; WiFi A/N; Bluetooth 4.0; HDMI port; Chrome OS. Weighs 3.31 pounds (1.5 kg) and is 0.71 inches thick. Price, depending on configuration: $279.99 (2GB RAM, 16GB SSD); $299.99 (2GB RAM, 16GB SSD, 1080p); $379.99 (4GB RAM, 32GB SSD, 1080p).
Samsung Chromebook 2: 2GHz Samsung Exynos 5 Octa 5800 processor; 13.3-inch display, 1920 x 1080 resolution, 250-nit brightness; 4GB RAM; 16GB SSD; SD card slot; Google Hangout-certified webcam; one each USB 2.0 and 3.0 ports; HDMI port; WiFi AC; Bluetooth 4.0; Chrome OS. Weighs 3 pounds (1.36 kg). Price: $399.99.
Sizing up C300
The ASUS isn't the fastest or flashiest Chromebook. Its benefits are measured by balance.
Display. The C300 offers the lowest screen resolution among the three but also is the most affordably priced. The resolution would typically put me off in a laptop with such large display, but the ASUS has a unique, charming attribute: Matte finish.
I am a vocal critic of laptop manufacturers choosing TN panels over IPS, which Google Chromebook Pixel, HP Chromebook 11, and Lenovo Yoga 11e all provide -- and none other in the category. TN and glossy finish are together a display disaster. The 200- to 250-nit screens are too dim; the only good viewing angle is straight-on; and reflective light gives the illusion of even less brightness. IPS panels are brighter, typically bright enough even when combating reflective light, and are viewable from most any angle.
The C300's matte finish nips that little extra needed from the 200-nit screen. Matte matters when getting the most from these dim displays. The subdued finish is a huge benefit, particularly for a Chromebook with this large a TN screen.
Performance. The C300 is somewhat draggy compared to Chromebooks running Haswell processors, like Acer C720P. Subjectively, the C300's performance feels sluggish starting up or sometimes switching tabs. Doubling RAM almost certainly would resolve any issues, and, to be clear, performance overall can satisfy. The C300 merely isn't as fast-feeling as the Haswells, and there are occasional pauses switching tasks. But once tabs are open, operations are generally smooth and responsiveness resounds.
I very much want to compare to the newest Samsung ARM or the Tegra K1-sporting Acer. If subjective speed matters to you, skip this whole category and choose a Haswell-based Chromebook. But consider benefits for the trade-off: The C300 is super quiet and comfy cool.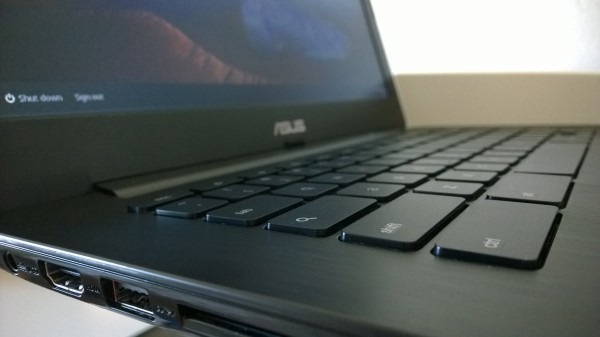 Design. Like Dell Chromebook 11, which I reviewed in May, ASUS C300 delights the eyes. The lines are curvy, but nowhere nearly as defined. This is one handsome laptop that looks like a classy car on a used Beetle budget. The Chromebook could easily be mistaken for a laptop costing twice as much, or, honesty, more. The design enters pricey Ultrabook realms. Fool your friends with this handsome computer.
Faux is the "in thing" this Chromebook season -- Samsung with fake leather and ASUS with imitation brushed metal, which tastefully isn't silver but rich, dark grey. Vertical ridges adorn the lid and surface area surrounding the keyboard. There's a ubiquitous quality to the overall look that, if not for the lid ridges, would be hugely and pleasingly understated.
But there's something sterile -- and also slippery -- about how the C300 feels in the hand. Grip is okay but slick to hold. While the enclosure doesn't cling to the fingers, fingerprints cling to the lid, which is like a magnet attracting them.
Keyboard and trackpad. The keyboard is good but not great. The keys are stiff, and they lack the life and responsiveness so common among Chromebooks. The keys feel tacky and sound clicky. For the category, the keyboard is subpar. To clarify, "not great" among Chromebooks still rates above average among many other laptops.
The trackpad is more than acceptable and is comparable to most other Chromebooks.
Audio and video. Speakers are beneath the chassis in the front, left and right of the keyboard. The design disappoints. Placing a pencil beneath the Chromebook lifts the front end and boosts the audio by reflecting sound waves off the desk or other surface area. Overall sound is good but not great, but it is exceptional for the price class when attached to headphones or speakers. Audio booms, and there is satisfying soundstage, which often matters more for movies. Music is rich and bassy, with lots definition -- all, in my testing, from streaming Google Music.
Video performance is excellent -- silky smooth -- such as streaming stuffer-free Hulu. I watched portions of movie World War Z in Google Play Movies and TV and Netflix apps. Graphics acceleration keeps pace with the action, with no dropped frames. Same is true watching the Mad Max trailer from YouTube.
The color gamut greatly appeals, and video is vivid and sharp -- so much that the C300 is one of my favorite Chromebooks for streaming movies or watching YouTube. The non-reflective matte screen helps rather than hurts -- something that must be emphasized for those people presuming glossy, with its richer contrast, is always better.
Battery life. Somebody just shoot the Energizer Bunny, and end its misery. The rabbit cannot match the C300, which lasts 10 hours on a single charge. Effortlessly. In all my Chromebook testing, only the Acer C720P goes for so long. The battery benefit is one of the best reasons to choose the ASUS.
About the Competition
When gauging ASUS as option against 13.3-inch models from Acer and Samsung consider:
This entire class of processors won't deliver subjective speed as fast as Haswell-based models.
Samsung gives 4GB RAM and Acer the same on two models. The C200 is hampered by 2GB memory.
Screen resolution is lower, but matte finish reduces glare and improves brightness; the other two are glossy.
Acer and Samsung offer 1080p displays. If high-resolution is a priority, ASUS doesn't measure up to competitors.
The C300 offers best balance of features, design, benefits, and price. There's much to like about the $250 Chromebook.
The keyboard is mediocre compared to Samsung Chromebook 2 and likely Acer Chromebook 13, which I haven't used; but I know Acer C720P.
If buying a new Chromebook, I would favor C300 because of lower price and matte display. Sure Acer and Samsung give HD, but these TNs are still dim.
Photo Credits: Joe Wilcox