SanDisk announces 200GB Ultra Premium Edition microSDXC card at MWC 2015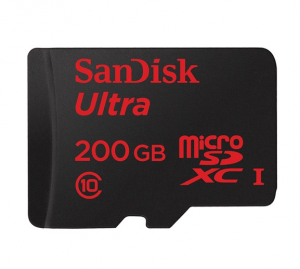 Slowly but surely, microSD is replacing SD. While most consumer and professional cameras use the larger SD format, smartphones, tablets and other electronics are embracing the smaller. This makes sense, as a smaller card meanss a smaller reader, which in turns means less of a footprint when manufacturing an electronic device.
Today, SanDisk sets the world's collective hearts aflutter with the 200GB Ultra Premium Edition microSDXC card. If you are planning to pick up the new HTC One M9, this should probably work with it. Samsung Galaxy S6 or S6 Edge? Not so much.
"In just one year after introducing its record-breaking 128GB SanDisk Ultra microSDXC card, SanDisk has increased storage capacity by 56 percent within the same fingernail-sized form factor.  Keeping up with the demands of today's mobile users, the new card provides the freedom to capture, save and share photos, videos and other files without worrying about storage limitations", says SanDisk.
The company further explains, "ideal for Android smartphone and tablet users, this Premium Edition microSD card combines the world's highest capacity and blazingly fast transfer speed of up to 90MB/s to deliver premium performance.  At this transfer speed, consumers can expect to move up to 1,200 photos per minute".
SanDisk lists the following specs.
Form Factor: microSDXC
Capacity: 200GB
microSDXC form factor
Performance/speed:Up to 90MB/s read speed, write speed lower)
Card dimension: 0.59in x 0.43in x 0.04in (14.99mm x 10.92mm x 1.02mm)
Operating temperature: -13ºF to 185ºF (-25ºC to 85ºC)
Storage temperature: -40F to 185ºF (-40ºC to 85ºC)
Class 10 for Full HD video (1920x1080)
Memory Zone app lets you auto-manage media and memory for peak phone performance
Comes with SD adapter for use in MIL cameras
Support: 10-year limited warranty
Before you get too excited, the price may immediately scare you away. You see, the 200GB card will ship in Q2 of 2015 (April, May, June) for an eye-popping $399.99. In other words, it may cost more than the device you want to put it in. For example, even if a $35 Raspberry Pi 2 can accommodate such a card, it would be insane to spend 1,143% more for the card than the computer itself.
Will you spend $399 on this card? Tell me in the comments.