Chuwi LapBook Air 14.1 has a cool design, but quality is lagging [Review]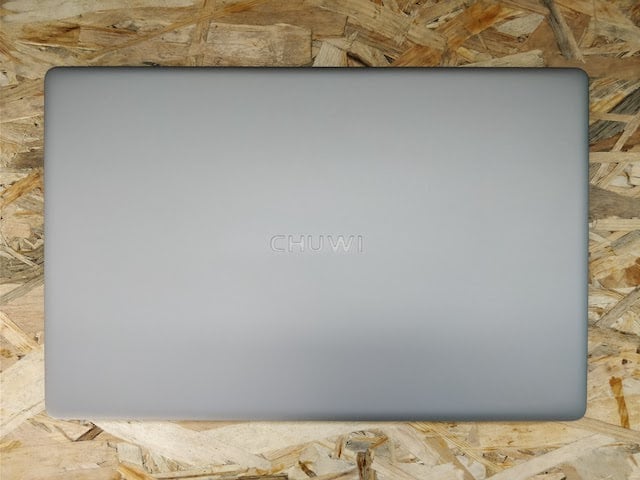 Chuwi has managed to attract quite a bit of attention with its laptops and tablets. The LapBook 14.1 that I reviewed early last year was great, thanks to a nice mix of features and performance. But now there's a new kid on the block, which looks even more impressive.
It's called the LapBook Air 14.1 and it supersedes the LapBook 14.1 in the company's lineup. Compared to the old model, it adds a metal build, more RAM and more storage, but a higher price tag too. On paper, it looks like a killer combination, but what's it actually like to use? I've tested it to find out.
In the box
Chuwi ships the LapBook Air 14.1 in a basic box that includes the charger and the usual literature. It's similar to the package I received the LapBook 14.1 a year ago. The device is well protected during shipping.
Design
The LapBook Air 14.1 is among the nicest-looking entry-level laptops that you will see. It's got a clean design, metal finish, chamfered edges, and a backlit Chuwi logo on the back of the screen. It looks similar to a MacBook Air, but it's difficult to mistake it for one. It does look much more expensive than its price tag would lead you to believe.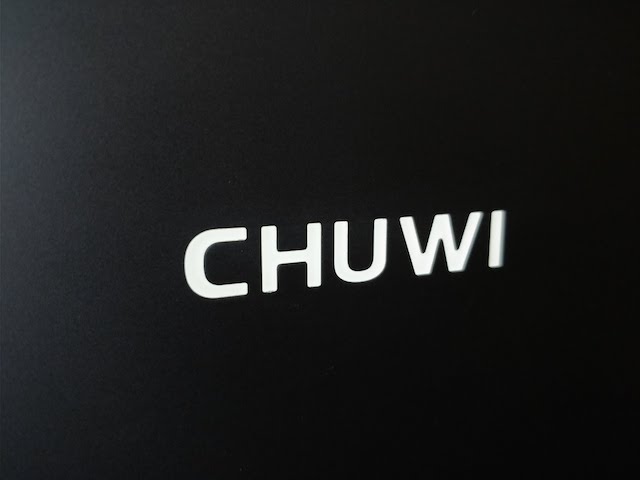 You have the microHDMI and power ports and the microSD card slot on the left and two USB 3.0 ports and a headphone jack on the right. The LapBook Air 14.1 also has a 2MP camera on the front, which sits above the display, in the middle.
The tolerances are a bit high for the USB ports, as I found it difficult to insert and remove a flash drive that works perfectly fine with other devices, but the other ports seem to be fine.
Another quirk of the LapBook Air is that it let me insert the power plug into the headphone jack. They are labeled, of course, but it should not be possible to do this -- even by mistake, like in my case. Nothing was damaged, but it's something that Chuwi should address in the future.
Display
The display is one of the highlights of the LapBook Air 14.1. It's a 1080p IPS panel, which sits behind a sheet of glass, that looks quite good in use. The resolution makes text sharp, as you would expect, and the IPS technology ensures that quality remains good as you get close to extreme viewing angles.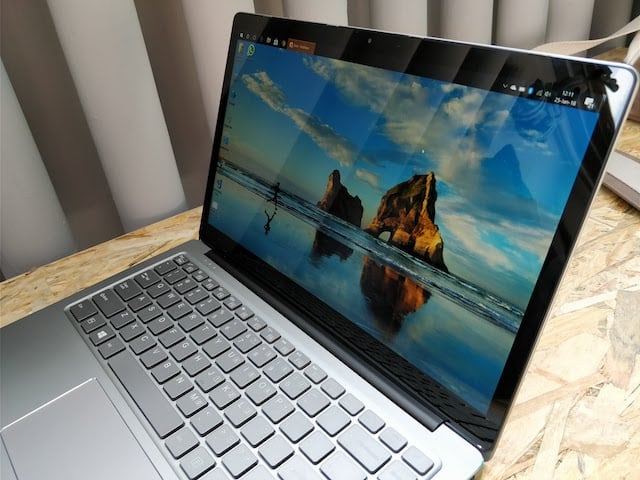 The only downsides are the coating and the backlighting, which is uneven. The glass makes it reflective, which can be a problem depending on where you want to use the LapBook Air 14.1. In the latter case, the uneven backlighting is easily noticeable on a black background. If you want to get around it, you can by switching to colorful wallpapers and using light themes in programs.
Performance
The LapBook Air 14.1 is equipped with a quad-core Intel Celeron N3450 processor, HD Graphics 500 and 8GB of RAM. That's a combination that works well for non-resource intensive tasks, like browsing the web, editing documents and streaming video. The laptop also comes with 128GB of storage. Sadly, it's of the eMMC variety, which affects performance.
The upside is that you do get an M.2 slot, so you can throw a proper SSD inside. Considering the target audience, that's a cost-prohibitive upgrade which not many are likely to make. So, realistically speaking, it's up to the eMMC chip to perform well.
So, how does it perform? I ran a quick test using CrystalDiskMark and it showed peak sequential reads and writes of 165.7 and 101.8 MB/s. That's similar to the LapBook 14.1 I tested a while back, but a far cry from an SSD. Again, while it's nice that you can upgrade the storage, it would be awesome to get something faster out of the box.
In terms of browsing performance, an Octane 2.0 test showed a score of 10,816 which, again, is similar to the LapBook 14.1 from over a year ago. You would expect a small bump in speed here, but things are pretty much the same. So what's it actually like to use?
Well, generally speaking, performance is good, but there are times when you notice slowdowns. That's likely due to the storage, which is not the fastest around. That's something that Chuwi should keep in mind for future models, as it's a shame to have this dated technology in this day and age.
Keyboard and touchpad
I am spoiled by using a MacBook Air every day, so I tend to judge any laptop keyboard from that perspective. Apple's keys have a lovely feel, the amount of travel is just right, and the illumination is simply superb. I have not yet found a Windows laptop that matches that.
Since the LapBook Air 14.1 looks similar to a MacBook from the outside, it's easy to think that the keyboard is the same. Chuwi, thankfully, did not go that route. The keys are not black, like you would find on a MacBook, but silver, like the rest of the device. Travel is similar, if not longer, and the keys have a more plasticky feel.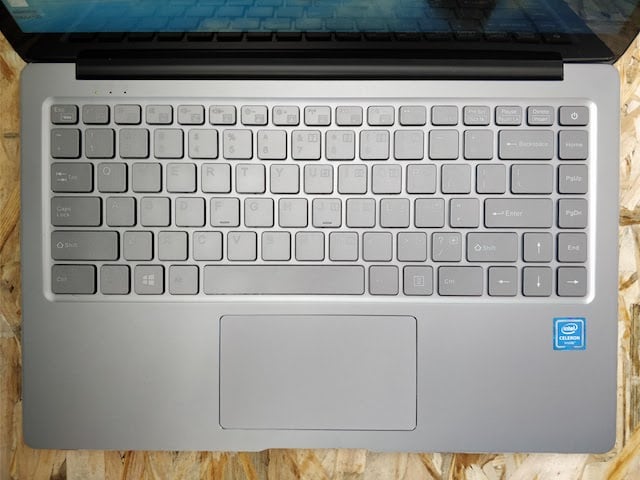 It's a setup that works fine. Same goes for the illumination. It's turned on by a press of the Fn and Esc keys. The output is not even across the whole surface of the keyboard and you cannot change the output level, but it is nice to have it. It makes the LapBook Air look more elegant.
The touchpad is not on the same level, however. Quite frankly, I have yet to see a touchpad on a Windows laptop that I like to use, so I am not surprised by this. It feels imprecise and a bit too sluggish when you navigate using gestures and the surface area is relatively small. Can you get by with it? If you do not have a mouse, yes, but if you can use one, well, you should.
Battery life
The LapBook Air 14.1 has a 33.7Wh battery which Chuwi claims is good for between five and six hours of runtime. That's on par with what I have seen using it casually. If you go all-out though battery life will take a hit, which is to be expected, but, overall, it's as claimed here.
Portability
The LapBook Air 14.1, as its name suggests, is designed to be a light machine. However, it is not as light as you may be led to believe. I weighed it on my kitchen scale and found that it comes in at 1.42kg (3.13lb) without a charger. Personally, I do not have a problem with heavier laptops, but considering what it's called I think it should weigh a bit less. The charger adds 276g (9.73oz).
The good news is that the LapBook Air 14.1 is compact for its size. It comes in at 32.91 x 22.05 x 2.05cm (12.96 x 8.68 x 0.81in). The charger itself is small as well, so it should fit in a messenger bag or backpack without issues.
Windows 10
The LapBook Air 14.1 comes with Windows 10 Home preinstalled, which adds significant value to the laptop considering the price range it is playing in. There is a minimum amount of bloat on the device, which can be easily removed either by uninstalling the apps and programs manually or going the reset route.
What is unusual is that there is no initial setup with the LapBook Air 14.1. While this may make things easier for some people, as you can get to the desktop right away, Chuwi should allow users to configure their new laptop as they want after taking it out of the box. As it is shipped, it comes with a predefined user and settings.
After getting the LapBook Air 14.1 I updated Windows 10 to the Fall Creators Update release. That's easily done. After that I went with a reset to get rid of the stock account and configurations, which is what I would wholeheartedly recommend to any user.
Conclusion
The LapBook Air 14.1 is a mixed bag. On one hand you have a really cool design and some decent specs (that display is especially attractive for an entry-level laptop), but on the other hand performance is not quite where it should be. It's currently priced at $443 on GearBest, which puts it on the same level as some offerings from established brands like Acer, Dell and HP and makes it hard to recommend.