Kensington builds a better Surface Pro Dock than Microsoft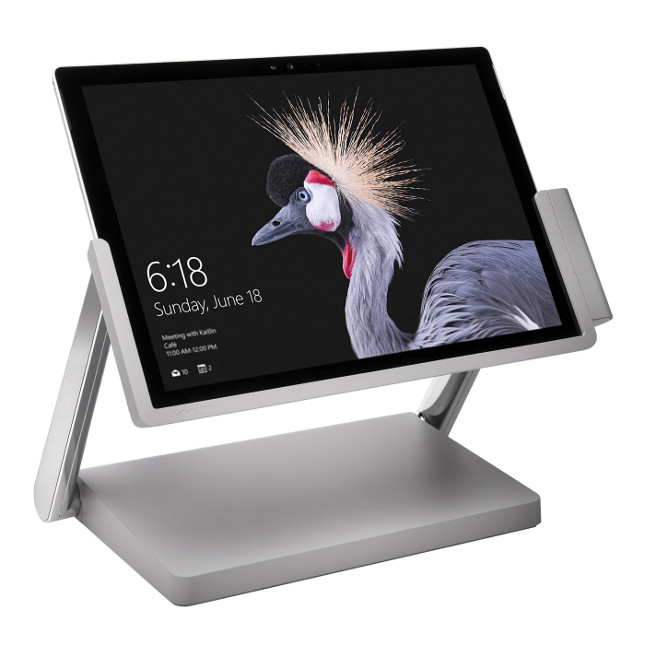 Microsoft can make beautiful computers as we have seen with is popular Surface line, but when it comes to accessories, the company doesn't have a great track record. Its recent Surface to USB-C adapter is embarrassingly ugly, while its new Surface Go USB-C dongles are ridiculously priced.
Worst of all, its most recent Surface Pro dock (seen here) is rather ho-hum. I preferred the older Surface docking station (seen here) from the Surface Pro 3 days, which cradled the tablet -- it wasn't just a glorified dongle like the current one. Seeing an opportunity to outdo Microsoft, today, Kensington unveils a Surface Studio-like docking station (model SD7000) that is downright breathtaking -- it holds up the tablet and has adjustable arms.
It connects using the Surface Connector port, and provides four USB-A ports, one USB-C, gigabit Ethernet, DisplayPort, HDMI, and 3.5mm audio. While connected, it charges the Surface Pro too. It can be secured to your desk using the integrated Kensington security slot. it even offers a magnetic Surface Pen holder.
"The ultimate docking solution for Surface Pro has arrived. With the SD7000 Dual 4K Surface Pro Docking Station, users can expand their desktop setup to include two external monitors, connect to a wired network and favorite USB accessories, and position their Surface Pro to work upright in desktop mode or down in studio mode," says Kensington.
ALSO READ: You can already save $50 on Microsoft Surface Go
The company further says, "Built on Microsoft's proprietary Surface Connect technology, users can connect with confidence for a seamless dock and charge experience that looks as good as it functions with a small desktop footprint and clean lines. Available with an optional integrated lock to secure the Surface Pro, the SD7000 offers best-in-class docking and locking to support the desktop of the future."
Unfortunately, while this dock can push two 4K monitors, it will only be at 30Hz. To achieve 60Hz, only one monitor can be connected. Sadly and inexplicably, there is no SD card slot. Also, keep in mind, it only works with the newest Surface Pro (2017) and Surface Pro 4. Older Surface Pro models are not compatible.
While the price seems high at $300, it is actually reasonable -- especially when you consider the unique Surface Studio-like adjustable arms.