The new AI-powered Bing preview arrives on iOS and Android today -- and in Skype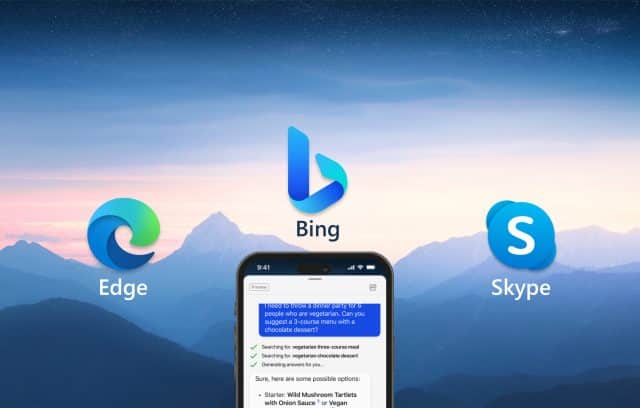 Microsoft isn't wasting any time in rolling out and expanding its new AI-powered version of Bing. Yesterday, the company explained how it was beginning to relax some of the limitations it introduced after its AI went rogue and started insulting and gaslighting users, and also revealed future plans which included allowing users to choose the tone of AI chats in Bing.
Today, Microsoft's Yusuf Mehdi, Corporate Vice President & Consumer Chief Marketing Officer, announces that the launch of the new AI-powered Bing and Edge mobile apps, which arrive with bonus new features, such as voice input.
SEE ALSO: Microsoft shares an update about the waitlist for the new Bing enhanced with a custom version of ChatGPT AI -- including how to jump the queue
Mehdi says: "Because we know 64 percent of searches occur on mobile phones, we are releasing all new Bing and Edge mobile apps to serve as your copilot for the web even when you are away from your desktop" and goes into more detail about what this means:
Available on iOS and Android today, the Bing mobile app offers a fresh look and experience. Tapping the Bing icon at the bottom will invoke a chat session, where you can engage in all the same ways you can from the desktop. Ask simple or complex questions and receive answers and citations. Choose how you want your answers displayed -- bullet points, text or simplified responses. Explore the Bing chat experience to refine your query or compose an email, poem or list.

With the introduction of the new Bing mobile app, we're adding one of the preview community's most requested features -- voice. Available on mobile and on desktop, voice search provides more versatility in how you can deliver prompts and receive answers from Bing.
In addition, the company is today also introducing AI-powered Bing for Skype.
Mehdi explains how this will work: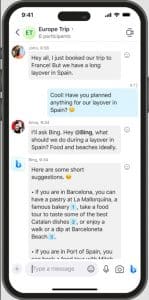 Imagine having a copilot for your friends and family as you stay connected and plan your next get together. Simply add Bing to the group, as you would any Skype contact, and now you can ask Bing to answer questions and provide information for the entire group. For example, if your family is chatting about the next family reunion, you can simply ask Bing for suggestions on travel destinations, expected weather forecasts and interesting events around your time of travel, and everyone in the chat will get access to the results. When you are catching up with friends, you can ask Bing to simply fetch information from the web, for example, the latest news or last night's award shows to add to your conversation.

You can choose how you want your answers to be displayed -- bullet points, text or a simplified response. Bing can accommodate your preferences. Fluent in more than 100 languages, and capable of translating between them, Bing can offer unique value to this global communications tool.
At the moment, Microsoft is operating a waitlist for its new AI-powered Bing but says it is working as fast as possible to onboard more people every day and invites testers to sign up for the Bing preview here.