Samsung's day of reckoning in Apple fight fast approaches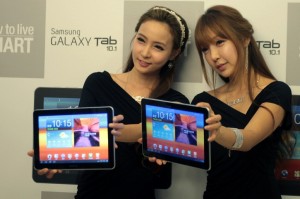 Samsung can breathe a small sigh of relief. While a US District Judge says that Galaxy Tab 10.1 infringes on patents held by Apple, she refused to award the preliminary injunction the Cupertino, Calif.-based company seeks.
Lawyers for both companies appeared before US District Judge Lucy Koh in a long-anticipated court hearing yesterday. Samsung can continue selling Tab 10.1 as well as the Droid Charge, Galaxy S 4G, and Infuse 4G in the United States. For how much longer, with the holidays fast approaching, is uncertain.
Both Verizon and T-Mobile had filed legal briefs supporting Samsung. T-Mobile sells the Galaxy S 4G and plans to offer the Galaxy Tab 10.1. Verizon sells the Droid Charge and Tab 10.1, and they are among the crown jewels of the carrier's 4G LTE network. The companies argued that the injunction would cause"unnecessary harm" to both the carriers and its customers.
Apple asked for an injunction based on utility patents, which involve specific functions of the tablet itself, as well as design patents that involve the device itself.
Apple's Utility Patents
Specifically, the utility patents in question are:
Koh hasn't thrown down the gauntlet on Samsung, unlike courts in some other countries. There may be good reason: a cursory scan of these aforementioned patents show that the technologies mentioned are a part in some form of just about every modern smart device.
Due to this, Samsung could argue in court that it is being singled out, being one of Apple's major competitors. If Koh issues an injunction against the South Korean electronics maker, it could set a precedent that Apple may use in filing injunctions against just about any electronics maker out there. Apple -- patent bully or not -- could use any precedents to gain an unfair advantage over competitors.
Design Patents, Apple's Ace?
Based on Koh's comments during yesterday's hearing, Apple will have to make its case on the design patents. This may be Apple's ace in the hole. Specifically, the design patents in question are #D558,757 and #D618,678, for iPhone and iPad, respectively.
The European Union has laws specific to protecting vendors from competitors copying products' look and feel. This is different from the patent cases here. A German court issued an injunction stopping the sale of the Tab 10.1 there -- despite Apple lawyers apparently doctoring images to make the Tab look more like the iPad 2, something that certainly brought on a good deal of criticism aimed at Apple.
On the subject of the similarities between the two tablets, made the point in one of the most poignant moments of Thursday's hearing. She held up both devices for Samsung's lawyers and asked which device was which.
Reuters court reporter Dan Levine summed up the scene in this tweet: "Koh just held both tablets above her head, one in each hand, asked Samsung lawyers to identify which was which. Took them a while to do so," he wrote.
Despite the demonstration, Koh didn't indicate whether or not she was inclined to grant a preliminary injucntion based on the design patents.
Defeat in Australia
Samsung may have had some good news Thursday in the United States, but a day earlier in Australia, that was not the case. There, Apple received a temporary injunction banning the sale of the Tab 10.1 in that country, and there the utility patent argument succeeded.
Justice Annabelle Bennett ruled that the touchscreen functionality of the Tab infringed on Apple's patents. Samsung attempted to settle with Apple earlier this month, but Apple chose to press on in court.
Apple also has a case in the Netherlands but there is no final ruling yet -- (there Galaxy smartphones are banned).