Where are XP users moving to? Windows 7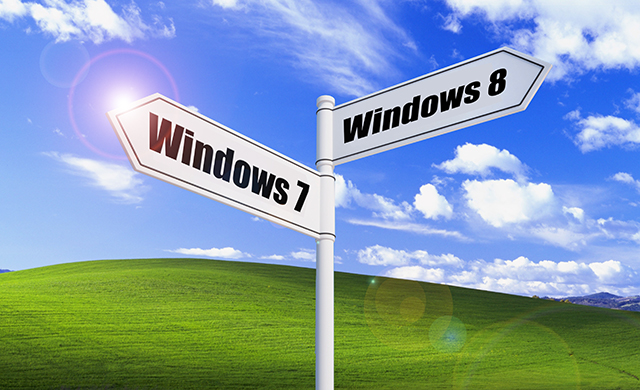 In a week Windows XP will reach its end of life. Microsoft has done its best to tell people they need to switch operating systems or face the consequences, but if the latest desktop OS share trend from NetMarketShare is anything to go by, Windows XP users really don't seem too worried. In March, XP's share dropped just 1.84 percent, from 29.53 percent to 27.69 percent. Hardly the signs of a mass exodus, although at least the share fell this month, unlike the previous two, when XP usage actually went up.
Microsoft has, naturally enough, pushed XP users towards upgrading to Windows 8.x, or "new Windows" as the tech giant likes to refer to it, but Windows 7, or "old Windows" proved yet again to be far the bigger draw.
While Windows 8 actually increased share in March (only by 0.03 percent, but the usage has been falling steadily as users upgrade to 8.1), and Windows 8.1 gained some share (0.59 percent), the combined Windows 8.x increase is a mere 0.62 percent (up from 10.68 percent to 11.30 percent).
Windows 7 on the other hand, rose from 47.31 percent to 48.77 percent, an increase of 1.46 percent, or more than double Windows 8.x's growth.
There's no (accurate) way of knowing how many XP users will swap their Windows systems for an iPad or Android tablet at this point, but it's safe to assume reasonable numbers will go that route.
This coming month will be an interesting one for Windows 8.x, because as well as XP reaching its end of life -- which should see a greater number of migrating XP users in search of a new home -- Windows 8.1 Update will be released. This service pack style update makes boot-to-desktop the default mode and adds various keyboard and mouse friendly tweaks to the OS, which might make it more appealing to PC traditionalists.
Don't expect the tiled OS to suddenly gain huge amounts of market share though. In the month the infinitely superior Windows 8.1 arrived as a free update to Windows 8, the combined 8.x managed an increase of just 0.36 percent.