My Nokia Lumia life begins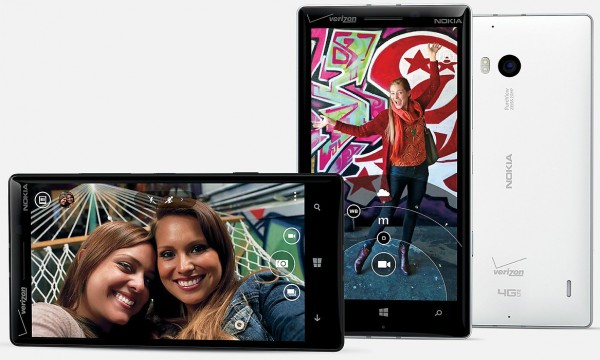 Second in a series. Sunday started an unexpected journey long anticipated. I walked out of Microsoft Store San Diego holding my first Nokia since abandoning the brand in 2009. Before Nokia imploded, first unable to respond to Apple innovations and next by adopting Windows Phone as primary platform, I preferred the handsets -- using over the years the N95, N96, N79, N97, and N900.
I am the proud owner of the Lumia Icon, which marks my family's slow migration to Verizon from T-Mobile. AT&T would make more sense, since the iPhones my daughter and father-in-law use would work unlocked. If the Lumia 930 were available, I could go to the Blue rather than Red network from Pink (which becomes Yellow if purchased by Sprint). My initial reaction is surprisingly good, of the handset and Windows Phone 8.
In February, colleague Brian Fagioli offered a first-impressions review, which is good reference ahead of my forthcoming, longer look.
Lost Cause?
Nokia's fall is a Hollywood screenplay. The global cellular market leader gave up its crown to Samsung, ending a 14-year reign, during first quarter 2012. But the road to ruin started in early 2007, when Apple unveiled iPhone. Nokia, which invented the smartphone in the mid-1990s, couldn't adapt to the finger-friendly design ethic Apple presented. Touchscreen and sensors humanized the cell phone.
I lamented Nokia's clearly downward trajectory in late 2009. In January 2011 post "Confessions of a former Nokia enthusiast":
I love Nokia. It's a global brand with huge, but rapidly declining, global presence. Nokia brought advanced capabilities, like quality photography, video recording and video calling, to its handsets long before competitors. For years, Nokia defined mobile innovation at both ends of the market -- providing quality, affordable handsets to the masses and cutting-edge feature phones to enthusiasts. That was then. I love Nokia, but Nokia doesn't love me.
Based on actual handset sales, not shipments, Nokia clung to second place during 2013, according to Gartner. But in the category that matters, smartphones, the brand long ago left the Top 5. Nokia is a has-been, giving up many of its core markets to Samsung.
The question now: With the Windows Phone platform switch complete, Microsoft's assumption of ownership, and industry-leading photography and videography tech, can Nokia rebound? Marketing matters, and Nokia doesn't match up to Apple or Samsung.
Read more of Joe Wilcox's "Microsoft All-In" series
While competitors innovate and iPhone progress stalls, Apple responds not with a new device but the hugely appealing "You're more powerful than you think"
ad campaign
. Products don't sell themselves, and aspiration -- your life will be better for buying
this
-- is the best sales pitch. Nokia doesn't match Apple's marketing volume or quality. Great devices are garbage if no one knows about them. Hey, Microsoft, are you reading this?
Four Contenders
I give Nokia another chance because of some good marketing about Lumia Icon benefits, but I had to look for them. No advertisement wooed me. I went to Nokia's website and there found what might meet my needs.
I considered HTC One M8, iPhone 5s, and Nexus 5 -- all of which I have used. In fact, I will soon post a M8 and Nexus 5 photo shootout review. These handsets offer, in varying degrees, superb photo- and video-shooting capabilities. The M8 is a terrific low-light shooter and captures great audio shooting video. Better tools support the 5s, which produces more consistent photos than the M8 but is hampered by fixed-focus video. The N5 is well-balanced all-around.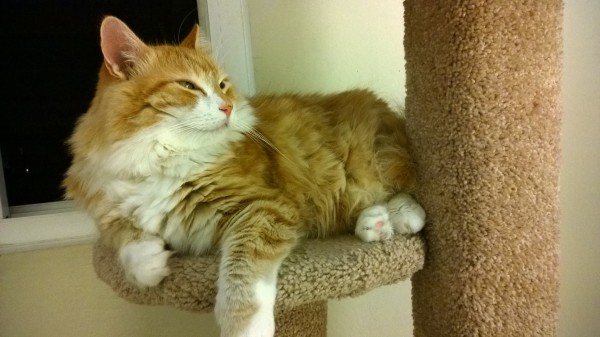 Strong third-party and vertical apps support the Apple and Google smartphones. For someone long living the Google lifestyle, iPhone 5s or Nexus 5 fits fine. Any Windows Phone is a stretch, as there are no native apps for Gmail, Google+, Google Search, or YouTube among other Big G services. Windows Phone is a wasteland.
In that regard, Microsoft and Nokia are well-suited. Two former world leaders are now third-world castaways, figuratively. Developers support Android and iOS first, then sometimes Microsoft's platform. The app gap is wide and narrows slowly.
So I don't casually switch platforms. Change can be liberating but risky. I will step back from Plus and many other Google services if continuing with Windows Phone. Most of the other necessary apps -- ranging from Facebook, Kindle, Twitter, to Vine -- are all covered.
ClearType is Right
I spent my first full day familiarizing with the operating system and will start on multimedia features today. Windows Phone 8 shocks coming from Android or iOS, since the task-oriented interface is so different. Apple can't accuse Microsoft of copying anything.
The OS is finely crafted, in all the ways that matter most. Attention to design detail is phenomenal. I said "wow" when typing my first text message, for example, because the app is so pleasing. Typography is superb and gets punch from the Icon's 1080p screen that is 441 pixels per inch.
Microsoft doesn't get enough credit for typography. The company developed what later would be called ClearType for its ill-fated Pocket PC and Tablet PC ebook reader. Barnes and Noble used the tech for its ebookstore opened in 2000 and closed three years later.
From the failed venture,ClearType remained. During the early Millennium, Microsoft incorporated the typography tech into Windows -- as an option, because it didn't support CRT monitors. But as LCD proliferated, spurred by laptop adoption, ClearType became Windows' typography default.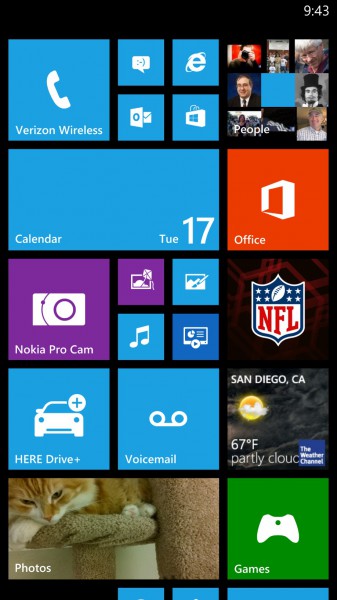 Microsoft typography is a relief. Keeping the default settings, I can read much better on Lumia Icon than the other three smartphones.
Tomorrow, I may follow colleague Mihaita Bamburic's method for installing Windows Phone 8.1, ahead of its official distribution through Verizon.
Trial Uncertain
I will expand on software and services experiences -- and the cloud -- in my eventual review. Same applies to the hardware, which deserves some mention now.
The smartphone is attractive, available with white or black backplates. The Icon is hefty at 167 grams but feels good to hold, and the balance is excellent. Balance is a feature often overlooked by consumers and manufacturers -- and it is vitally important for a device used to capture photos or videos. Nexus 5 also has great balance. M8 does not.
Dedicated camera button is a huge plus. The shooter is a 20-megapixel sensor with f/2.4 Zeiss lens. There are four microphones for capturing audio, and in my brief testing they add much to video capture.
I have 12 more days to decide whether the Icon can live up to its namesake; retail return policy is 14 days in California. I chose the Nokia for promised photography and videography capabilities, which includes audio capture this marketing video demonstrates. Whether or not the Lumia lives up to expectations, or just my needs, is uncertain -- but promising out of the box.