Samsung Connect Auto turns your dumb car into a smart car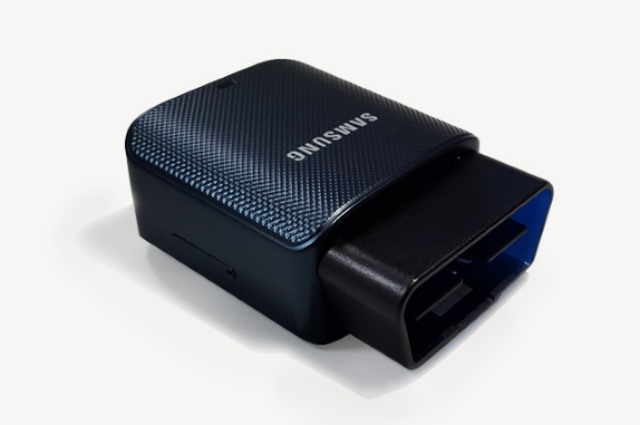 It's not just brand new vehicles that can be considered smart cars. Today Samsung launches Samsung Connect Auto, a plug-in module that can transform any car with an OBD II port in a smart car, connected into the Internet of Things.
Powered by Tizen, Samsung Connect Auto is a small dongle that features a GPS receiver, LTE modem, and a Wi-Fi hotspot. It has been designed to provide drivers with real-time feedback so they can adjust their driving style and improve fuel efficiency. More than this, the dongle also gives the car and its occupants with a Wi-Fi connection, and could provide information to insurers about driving style and frequency to help drive down insurance costs.
In the US, Samsung Connect Auto will work with AT&T, and in a bid to calm any concerns about privacy and security, Samsung KNOX is on hand to keep things under virtual lock and key. There is also involvement from Orange and AXA, and Samsung says that it has listened to customer feedback in creating its connected car ecosystem.
As well as helping to save money with fuel-boosting driving tips, Samsung Connect Auto could also reduce the cost of insurance. Serge Morelli, Deputy CEO of AXA Partners and CEO of AXA Assistance says:
AXA is delighted to partner with Samsung in the development of a secured Connected Car ecosystem that will bring peace of mind for our customers, provide them with additional insurance and assistance services and contribute to enhance drivers' behaviors.
Samsung is keen to push the security features of the ecosystem:
The backbone of Samsung Connect Auto is KNOX security and Tizen OS for interoperability. Samsung KNOX provides security from the hardware through the software levels, including applications. Prioritizing security differentiates Samsung Connect Auto from competitor offerings. Developers can leverage Tizen and Samsung's Software Development Kit (SDK) to further evolve additional services. Samsung also encourages safe driving behavior by using geo-fencing and driver rating algorithms. In the event of an accident, emergency alerts notify the driver's contacts and accident concierge services are provided. A 'Find My Car' app also helps in locating your car in real-time using LTE and GPS.
Samsung Connect Auto is certainly not a new idea, but with the power of Samsung behind it -- and an impressive team of partners including Cisco, Ericsson, Europcar, HERE and IBM -- it stands a better chance of success than rival systems.
There are no pricing details available at the moment, but Samsung Connect Auto is set for Q2 launch in the US, while Europe and other parts of the world will have to wait until Q3.