Logitech unveils 'Z625 Powerful THX Sound' 2.1 speakers with optical input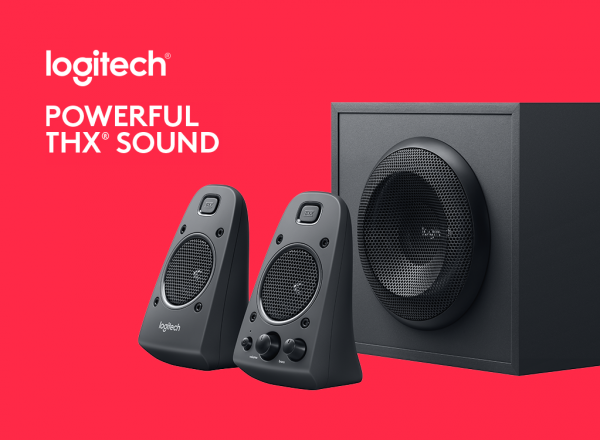 When people think of desktop computer speakers, their minds likely go to low-quality freebies that came with the machine. My first-ever PC, a Packard Bell, came with speakers that attached to the sides of the included CRT monitor. The sound quality was terrible (they hummed), but this was acceptable at the time; most folks didn't use their computer for listening to music or watching full length-films back then. It wasn't until the mp3 revolution that the PC became the central point of music and other media for some.
Believe it or not, over the years, generic OEM desktop computer speakers have remained fairly average. Of course, in-the-know audio enthusiasts could always upgrade to some quality gear from a company like Logitech. Speaking of that company, today it  announces its latest set of 2.1 speakers, the 'Z625 Powerful THX Sound'. Featuring both RCA and optical inputs, they should prove quite versatile. Whether it is for a desktop, laptop, or even a television. Logitech's latest looks like an affordable winner.
"Flat panels have become the standard screens around both home and office, and the types of connectivity available to add external speakers has evolved. The RCA connector has  slowly but surely been replaced by an optical connector. That's why we created our new Logitech Z625 Powerful THX Sound -- with optical input", says Logitech.
The famed company further says, "the speaker is an evolution of one of our most popular offerings, but refreshes the design with more contemporary colors for a new look. It delivers THX certified audio and 400 Watts Peak power, for fantastic sound that's perfect for movies and music, but also great to connect to your gaming console for immersive sound with full impact THX audio you can hear and feel. This 2.1 speaker system supports multiple inputs simultaneously, so you can connect up to three compatible sources and you can also easily access all controls, including power, volume, bass, headphone jack and auxiliary jack on the right satellite speaker".
This slideshow requires JavaScript.
Logitech shares the following technical specifications.
Total Watt (RMS): 400 Watts Peak/200 Watts RMS
Subwoofer: 260 Watts Peak/130 Watts RMS
Satellites: 2 x 70 Watts Peak/2 x 35 Watts RMS
Optical input: 1
3.5mm inputs: 2
RCA input: 1
Headphone jack: 1
Controls: Power, volume and bass controls on right speaker
So how much will the Logitech Z625 Powerful THX Sound 2.1 speakers cost? They are quite affordable at $169.99 -- for what they are. For that money, you are getting THX certified speakers with some respectable wattage. In other words, they should be quite loud while also offering great sound quality.
Speaking from experience, the company's speakers are often indestructible -- I have a set of its 2.1 speakers from over 10 years ago running strong today! Your investment should last.
Want to buy them? While they are not yet available today, you can pre-order them here now.