Sun Unveils 'Portable' Datacenter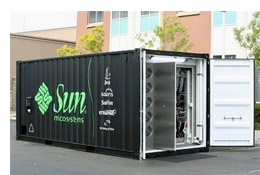 You could call it a network on wheels, and you wouldn't be too far off. Sun on Tuesday introduced "Project Blackbox," which is essentially a datacenter enclosed in a shipping container. Its portability would allow for quick setup in situations where a fixed location is not feasible.
Computing, storage and networking components are included in the package, along with power and cooling systems. The result, Sun says, is a "pre-configured, fully contained datacenter, optimized for maximum density, performance and efficiency, as well as complete recyclability."
Sun CEO and president Jonathan Schwartz says today's solutions are failing to meet today's needs. Project Blackbox would allow IT departments to deploy new data infrastructure rapidly, at a much cheaper cost.
According to company figures, Blackbox costs 80 percent less per square foot, yet delivers a 20 percent increase in power efficiency. Additionally, the initial cost is one-hundredth that of building a fixed data center. Each square foot can cost $1,000 -- or more -- to build.
"Project Blackbox starts from the world's most broadly adopted industry standard, the shipping container, and asks -- how can we most efficiently create modular, lights-out datacenters from this base," Schwartz said.
The initiative is currently in the prototype phase, with commercial offerings not expected until the middle of next year. Each portable datacenter will use Suns' Solaris 10 operating system and include up to 250 Sun Fire servers, with up to two petabytes of storage and up to seven terabytes of memory.
Those wishing to learn more about the project can do so on the <!external href="http://www.sun.com/blackbox">Sun Web site.