T-Mobile plans more Android phones after G1

T-Mobile plans to follow up on the release of HTC's Dream phone -- now known as the G1 -- with several more Android devices, a senior T-Mobile official told BetaNews at during a New York City press event today.
NEW YORK, NY (BetaNews) - While the G1 device rolled out today in New York is aimed at providing a "Google-focused experience" to users, future Android phones for T-Mobile's emerging 3G HSPDA market will be geared to other kinds of "user experiences." This from Mitch Lustig, T-Mobile USA's senior manager of product development, although he declined to specify which kinds of experiences.
Google applications running on the HTC Dream include Google Maps, Gmail, a "Chrome-like" browser, built-in support for YouTube, and IM support for Google Talk, as well as for AOL, Yahoo Messenger, and Windows Live. Google Maps Street View, another app on the G1 phone, syncs with the phone's built-in compass to let users navigate 360 degrees by moving the phone in their hands.
Also included is an app from Amazon.com for accessing the Amazon MP3 Music Store. "[But] the possibilities [for third-party open source applications] are really unlimited," Lustig told BetaNews.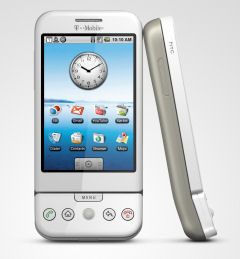 Lustig noted that among third-party applications now under development, one developer is now working on an application that will use Street View for drilling down into a map to get information about landmarks such as stores and restaurants located in a neighborhood.
T-Mobile plans to complete migration of its current 2.5G network to HSPDA in the top 27 US markets by the end of this year, with the remaining markets to follow, according to Lustig.
T-Mobile will sell the G1 phone -- in a choice of black, brown, or white -- at pricing of $179 with a two-year voice plan, accompanied by either a monthly data plan of either $25 for unlimited text messaging, or $35 for unlimited text messaging and Internet browsing. When purchased without a plan, the G1 is priced at $399, a Google spokesperson told BetaNews.
FOR MORE on the T-Mobile G1: