Microsoft and Nokia do the right thing for the wrong reasons

Today's Microsoft and Nokia strategic alliance is important for both companies, but probably not for the reasons many people will write about. Mobile Office is no big deal. Most people don't need it. Nokia already supports Exchange Sync, which matters more. For Microsoft, the deal's big bang is Office Communications and SharePoint servers support on Nokia handsets.
Microsoft casts the deal as being for enterprises, which is shortsighted. Based on the announcement, axiom "doing the right thing for the wrong reasons" applies here. The Nokia deal is potentially quite good for Microsoft, but for other reasons than Mobile Office. But, for Microsoft, Mobile Office must be the strategic priority, because the company needs to extend Office desktop software's relevance to the handset and the cloud. As I've written many times before, a new applications stack -- mobile device to the cloud -- challenges Microsoft's dominant Office-Windows-Windows Server applications stack.
Microsoft hopes to leverage the strength of its applications stack to the new applications stack, through enterprises, which is where the customer strength lies. Windows Mobile simply doesn't ship on enough devices. In one quarter, Nokia ships about five times as many handsets as Microsoft sold Windows Mobile licenses for all 2008, according to Gartner stats.
Microsoft has got the productivity products and Nokia has the largest mobile install base and market share based on device sales. Gartner released second-quarter mobile numbers today. Worldwide, Nokia sold 105.4 million mobile phones, for 36.8 percent market share, down from 120.4 million and 39.5 percent market share a year earlier. For comparison, second-ranked Samsung shipped 55.4 million handsets, for 19.3 percent market share. Gartner tracks sales to end users rather than shipments to dealers or carriers; so these numbers are actual sales.
The Microsoft-Nokia deal will matter more for smartphones, if for no other reason than the productivity software will be available on E-Series handsets first. Worldwide, in the second quarter, Nokia sold 18.4 million smartphones, or more than all the other top-five manufacturers combined. While Nokia's market share declined from 47.4 percent year over year, device sales rose by 3.1 million units. For comparison, second-ranked Research in Motion sold 7.7 million smartphones, for 18.7 percent market share.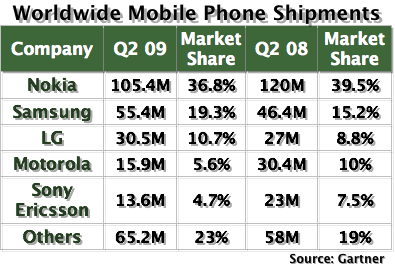 Nokia is more than the volume leader. It has huge international reach, which will be even more important to Microsoft. The international markets are what make me say that Office Communicator Mobile and SharePoint support matter more than Mobile Office.
Emerging markets are notorious for what some people call technology skip. They jump over an older technology for a newer one. In many emerging markets, mobile phones and not PCs are the first connected computing devices used by consumers and small businesses. Many of these same users will never use PCs. That's another incentive for Microsoft bringing Mobile Office to more users there. Of course, the mobile version isn't meant to replace Office. Still, this is a big step for Microsoft.
"It is the first time Microsoft will develop Office Mobile for another smartphone platform," Microsoft Business division president Stephen Elop said in a canned video announcement released today. Elop is right about that big first, with emphasis on big and first. What he didn't say: Windows Mobile isn't doing well enough, so the Business division must look to a rival platform.
To restate the problem I see: Most people, even enterprise business users, don't need Mobile Office; even less for all those new users in emerging markets. The mobile Office applications are rather confining, particularly their requiring files and specific file formats. If you disagree, fire up your comment and tell us all why Mobile Office is or would be important to you.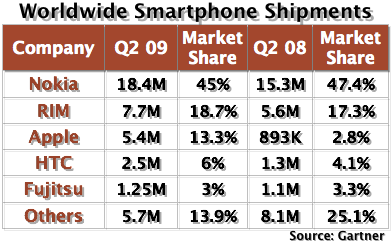 Collaboration and communications make sense around real-time information. That's where Office Communicator Mobile and SharePoint support matter more, assuming Microsoft doesn't get too hung up on centering most or all collaboration around Office documents. For emerging markets, Microsoft needs to offer hosted Exchange, Office Communications and SharePoint servers to support the handsets.
This morning, Nate Mook and I IMed about the Microsoft-Nokia announcement. He wondered about competition with BlackBerry Messenger, which I've never used. But I understand that the software offers real-time communications and presence, which is important to many enterprise users and certainly would matter to many small businesses providing services here and abroad. Office Communicator Mobile and SharePoint support could offer something similar as BlackBerry only better, because of real-time collaboration.
How does Nokia benefit? For starters, Nokia could increase its US presence. No major US carriers offer Nokia's flagship smartphone, the N97, or high-end, multimedia handsets like the N85, N86 or N96. AT&T recently started carrying the Nokia E71x, a US locked version of the E71 smartphone. The Microsoft deal should give Nokia more leverage increasing distribution for its high-end handsets.
Smartphones are the big mobile growth market, the devices most likely to replace or supplant PCs and best suited to Microsoft productivity software or services. Manufacturers shipped 40.9 million smartphones in second quarter. Nokia is the leader in smartphone operating systems, too. According to Gartner, worldwide in second quarter, Nokia's Symbian OS had 51 percent smartphone market share. Windows Mobile: 9 percent.
But Symbian's share is declining, too, down from 57 percent in second quarter 2008. Meanwhile, BlackBerry and iPhone OS share rises and Google's Android approaches 2 percent share. Gartner expects that Android will take share away from Symbian and Windows Mobile as more Google partners release devices.
From that perspective, one could view today's deal, which won't bring products or services to market until 2010, as declining giants working together. They will rise or fall together.
By the way, I have to ask who is really running this deal. Microsoft preannounced yesterday, and the official announcement came early day on the US West Coast rather than in Finland. Nokia World commences in late September, when the deal could have, and probably should have, been the crowning announcement. Nokia shouldn't chase Microsoft's wagging tail. Microsoft needs Nokia more than Nokia needs Microsoft.