Barnes and Noble makes nook e-reader cheaper to compete with Borders' sold out Kobo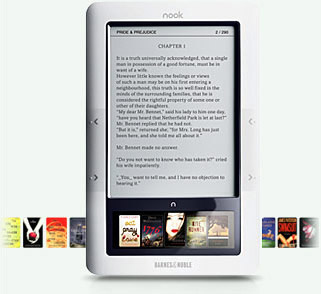 Late in 2009, leading U.S. book retailer Barnes and Noble <!article id="1256065254">launched its first e-reader, the Android-based nook. The nook includes a 6" e-ink display and a 3.5" LCD touchscreen for content navigation, giving it an instantly recognizable shape in an e-reader market <!article id="1262885610">packed with selfsame competitors.
When it hit retail, there was only a single nook model which included AT&T 3G wireless that cost $259, the exact same price as the Kindle 2 from Amazon.
The e-reader competition between book retailers has heated up considerably in the last two months, after Barnes and Noble's principal competition, Borders, began selling <!article id="1273250992">a much cheaper e-reader called Kobo.
During its first pre-order run, Borders' Kobo completely sold out. Those pre-orders began arriving at consumers' homes four days ago, and the next shipment is expected on July 2.
Today, Barnes and Noble announced that it now sells a Wi-Fi only version of the nook, which coincidentally costs exactly the same as the Kobo, $149.99.
Additionally, the cost of the 3G-enabled nook has been knocked down to $199, and the device's <!external href="http://www.barnesandnoble.com/nook/support/"> v1.4 software update gives nook owners free access to all of AT&T's Wi-Fi hotspots.
Now, among the biggest U.S. book retailers, Barnes and Noble offers the most feature rich e-reader for the lowest cost.