App Store comes to Mac in 90 days, new iLife Suite and trimmer MacBook Air available now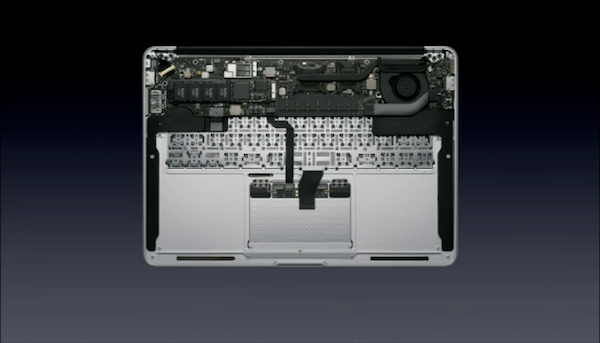 Inside the new MacBook Air
Today in San Francisco, Apple unveiled a new MacBook Air, updated iLife digital media suite and beta of FaceTime for the Mac. The company also previewed Mac OS X 10.7, aka "Lion," which will bring features found in iOS "Back to the Mac," playing off the title to today's media event. Apple CEO Steve Jobs shared the stage with other executives to demo the new products. Not since October 2008 has Jobs spent so little time on stage during a major Apple event. But in sharing the stage, he strongly delivered the big announcements: 11.6-inch MacBook Air, Lion and a shocker -- Apple will launch an applications store for Mac OS X 10.6 (Snow Leopard) within 90 days.
Jobs explained how from Mac OS X Apple created iOS, adding many new features not found in the desktop operating system. Now Apple wants to bring these features "back to the Mac," Jobs said. "Mac OS X meets the iPad," he emphasized. Lion will support multitouch gestures, the iOS App Store, full-screen applications, auto-saving applications and auto-resume, among other features. Applications will be "licensed for use on all your personal Macs."
The approach is simply brilliant because of integration of the App Store into Mac OS X. As previously explained, I made a similar recommendation to Microsoft more than five years ago, back when working as an analyst. Incorporating an applications store into the operating system offers important strategic benefits to Apple, its developers and customers:
1. Applications can be made available across multiple-sized devices -- Macs, iPads, iPhones and iPod touches.
2. Developers can now scale their applications across devices.
3. Developers can sell apps for which they will be paid; the app store deters piracy.
4. Rights protection is built in so that customers aren't exposed to onerous piracy-deterring activation mechanisms.
5. The store makes applications easily available to customers and more easily searched for than scouring the Web.
Apple will "release Lion summer 2011," Jobs said. But existing customers won't have to wait for the big feature. The App Store's coming to Snow Leopard in 90 days is hugely significant. Apple just raised the bar for all multi-device operating systems.
In another iOS meets Mac OS X announcement, Apple introduced FaceTime for the Mac, which also supports video calling with iPhone 4s and iPod touches with front-facing cameras. "A beta release will be available today," Jobs said. To date, Apple has sold 19 million FaceTime-capable iOS devices.
Lighter Than Air
As widely rumored, Apple updated MacBook Air. There is a new 11.6-inch model, while the 13.3-incher gets hardware upgrades that include 1440 x 900 resolution display. Pricing is aggressive. The 11.6-inch Air starts at $999 with 64GB of flash storage, or $1,199 for 128GB. The 13.3-incher is $1,299 with 128GB flash storage or double that for $1,599. The smaller MacBook Air weighs 2.3 pounds with claimed battery life of 5 hours. The larger model weighs 2.9 pounds with claimed battery life of 7 hours. "Both are available starting today," Jobs said.
The Mac Octoberfest is now something of an annual event. Two years ago, I watched a fraile-looking Steve Jobs launch the unibody MacBook Pro from the audience of reporters. His health, as much as the new computers, was big topic in news stories and blog posts following the event. A few months later, Jobs took medical leave before undergoing a life-saving liver transplant. Last year's October Mac launch was clearly about beating back Windows 7 competition. I blogged: "<!external href="https://betanews.com/joewilcox/article/Apple-declares-war-on-the-entire-PC-industry/1256063102">Apple declares war on the entire PC industry." Given the Macs surprising sales resilience against Windows 7 PCs -- as measured by consecutive quarters of record shipments -- Apple's guerilla tactics are working.
<!image id=5435 center>
iMovie `11
Timing couldn't be better for today's announcements. Macintosh performed surprisingly well during third calendar quarter. Globally, Apple shipped 3.89 million Macs during the quarter, up 27 percent year over year, according to the company. The real strength was mobile, where Apple portables outsold desktops more than two to one -- 2.64 million units to 1.24 million, respectively. In the United States, Apple's PC market share climbed above 10 percent, according to Gartner and IDC. Globally, Apple's share was 4.5 percent, according to IDC.
More numbers: The Mac made up about 33 percent of Apple's revenue during fiscal 2010, generating $22 billion, Apple COO Tim Cook said during today's event. He observed that the Mac install base is "50 million users around the world."
Apple's gains came against slower-than-forecast growth for the PC sector. During third quarter, IDC put year-over-year global PC shipment growth at about 11 percent, or nearly 3 percent below forecasts. Gartner gave a more tepid growth figure of 7.6 percent, rather than the forecast 12.7 percent. During today's Apple event, Cook said that the Mac outgrew the industry for "18 quarters in the row."
The numbers are surprising from one perspective, but not from another. The analysts cited slower back-to-school sales in the United States and Apple's iPad sacking netbook sales as factors behind the growth figures. But there is another. Both analyst firms measure shipments going into the channel rather than sales out to businesses or consumers. Calendar second quarter shipments proved to be stronger than anticipated. In that context, inventory management is one factor likely affecting the broader industry, assuming that PC manufacturers shipped more units during Q2 in anticipation of back-to-school sales.
<!image id=5438 center>
Apple CEO Steve Jobs introduces iLife `11
But there's more to the differences. Based on August U.S. retail sales from NPD, "one in five PCs sold in the United States is a Macintosh," Cook said. NPD tracks sales, not shipments. "The momentum on the Macintosh has never been more," Cook emphasized.
iLife enters the Tween Years
As widely, and not surprisingly, rumored, Apple announced iLife `11. Among the changes is emphasis on presentation. "You can live in full screen in iPhoto," Jobs asserted. Sharing features are enhanced, such as slideshows, photo book printing and social sharing connections to services like Facebook. A new Info Panel shows the services where photos have been shared and even with whom on Facebook. The new iMovie introduces new audio editing capabilities, an in-video people finder (e.g. face recognition) and the ability to create movie trailers (gasp, there aren't enough home-made ones on YouTube?) New movie sharing options include CNN iReport and Vimeo. I chuckled at the so-called new audio effects feature, which really brings back stuff removed after iMovie 6 (granted, the new stuff looks to be more easily applied). Apple also updated GarageBand. The new digital media suite is available starting today for $49, and will continue to be free on new Macs.
The new iLife comes at an interesting time, competitively. Earlier this month, Microsoft released <!external href="http://explore.live.com/windows-live-essentials">Windows Live Essentials 2011, which is the first version of the suite offering credible competition to iLife. More importantly, Microsoft is aggressively marketing the suite -- and compellingly. Over the last several nights I've seen Microsoft commercial "Family Photo -- to the Cloud," which is simply endearing. A mother difficultly tries to take a family portrait. She rushes "to the cloud," using Windows 7 and Windows Live to swap out grumpy faces for happy ones. "Windows gives me the family that nature never could," the mom exclaims. The TV ad recognizes something camera manufacturers have known for more than a century -- that women tend to be the keeper of the family's memories.
Like recent TV advertisements for Bing, Internet Explorer 8, Windows Phone 7 and Windows 7, "Family Photo" is a charmer. Microsoft is on a marketing roll that Apple executives should envy and should worry about. I've often asserted that in business, marketing and perception are everything. Apple reinvigorated its brand during the early 2000s with compelling, aggressive and often solo TV advertising. For years, only Apple aired MP3 player commercials in the United States; is it any wonder then that iPod sold so well after a long marketing build up that made it appear like the only choice? TV advertising is but an anchor to any marketing campaign, but one Microsoft long overlooked. Apple, you've been warned.
That said, a little Apple competitive marketing could go far, particularly considering some of the amazing new features demoed today. <!external href="https://twitter.com/#!/jasondunn/status/27950799955"> Jason Dunn aptly tweeted during the event: "The iLife suite really is the secret weapon on the Mac. Windows Live is getting better, but has so far to go -- iLife `11 looks pretty killer." I will save final evaluation until after using the product. But I agree, iLife `11 looks pretty good.