Gartner: Android smartphone sales surged 888.8% in 2010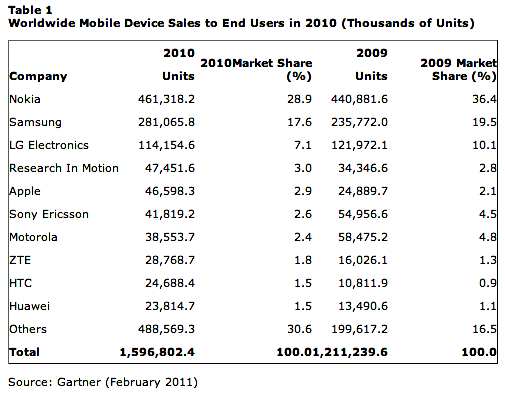 In an unexpected turn, Android did better by Gartner's measure than other talliers' reckonings, and the numbers have more punch. Unlike other analyst firms, which measure shipments to carriers and dealers -- what's sometimes called "sales-in" -- Gartner measures "sales-out" to buyers. Manufacturers shipped 67.2 million Android smartphones last year, up from 6.8 million in 2009. That works out to an average 184,000 Android smartphones sold per day. By comparison, Apple sold an average 127,000 iOS smartphones a day, or 46.6 million for the year.
Android's smartphone OS market share rose to 22.7 percent, putting it in second place, up from 3.9 percent in 2009. Android benefitted from strong manufacturer support. Among the top 10 global handset manufacturers, seven ship Android phones -- second-ranked Samsung and third-ranked LG among them. However, Samsung and LG both lost global handset market share for all 2010.
But no manufacturer lost share like Nokia. As measured by device sales, Nokia's market share dropped from 36.4 percent to 28.9 percent year over year. Similarly, Nokia's Symbian lost smartphone OS share, falling to 37.6 percent from 46.9 percent. Nokia sold 461 million handsets. Nokia and its licensees sold 111.6 million Symbian smartphones.
Recent reports from <!external href="https://betanews.com/joewilcox/article/This-is-getting-boring-iPhone-US-smartphone-share-remains-flat-while-Android-soars/1297120385">ComScore and <!external href="https://betanews.com/joewilcox/article/Its-a-photo-finish-Android-BlackBerry-and-iOS-are-tied-in-US-smartphone-share/1296581405">Nielsen show US BlackBerry shipment declines, particularly after Apple launched iPhone 4 in June. But globally, based on actual sales, Research in Motion and its smartphone are doing better. RIM moved up into fourth place for global handset sales, selling 47.5 million units for a 38.2 percent year-over-year increase. Gartner reported a strong fourth quarter, with RIM sales strongest in UK, Netherlands and Indonesia. However, Q4 dragged on RIM, despite its overall good performance for all 2010, as competitors grew faster. During fourth quarter, RIM's global handset market share fell to 13.7 percent from 19.5 percent a year earlier.
RIM also ranked fourth in smartphone OS sales, by both measures ahead of Apple. For the year, fifth-ranked Apple sold 46.6 million handsets, nudging its market share to 2.9 percent from 2.1 percent in 2009; growth was a strong 87.2 percent. Apple claims to have sold 47.5 million iPhones for 2010. But like other manufacturers, Apple really means shipments, or sales-in, to the channel. That said, only about 890,000 units separate Apple's and Gartner's numbers, which reflect excellent inventory management and/or high demand for iPhone 4. As measured by smartphone operating systems, Apple had 15.7 percent market share, up from 14.4 percent a year earlier.
"Strong smartphone sales in the fourth quarter of 2010 pushed Apple and Research In Motion (RIM) up in our 2010 worldwide ranking of mobile device manufacturers to the No. 5 and No. 4 positions, respectively, displacing Sony Ericsson and Motorola," Carolina Milanesi, Gartner research vice president, said in a statement.
Gartner said that two factors weighed favorably on Apple's growth -- ending exclusive carrier deals and broadening availablity; iPhone is available through 185 carriers -- what Gartner calls communication service providers. Surprisingly, Gartner identified Apple's Verizon distribution deal as being iPhone's greatest growth driver during 2011. The smartphone officially goes on sale tomorrow, but was available for order online today. Gartner's assumption suggests that iPhone has reached its peak market share growth, which may be somewhat by design. As Gartner noted, Apple's priority has been more about maximizing margins than gaining market share.
<!image id=5908 center>
The Verizon-iPhone deal isn't advantageous because of potential switchers but for characteristics of the broader market. "Western Europe and North America accounted for 52.3 percent of global smartphone sales in the fourth quarter of 2010, with smartphones accounting for close to half of all handsets sold in these regions," Roberta Cozza, Gartner principal research analyst, said in a statement.
For the broader market, there were 1.6 billion cell phones sold during 2010 -- 452 million during fourth quarter. Smartphones accounted for 19 percent of global handset sales, growing 72.1 percent year over year.