Microsoft debuts IE10, announces PDC 2011 dates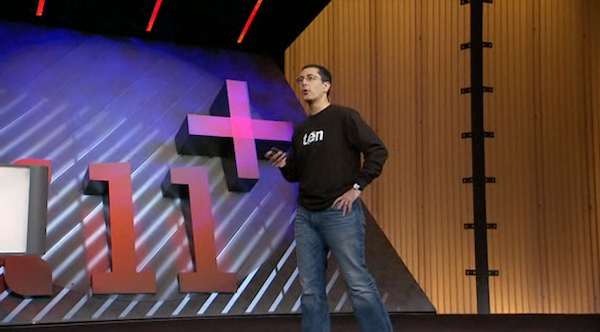 The wait is over. Microsoft's MIX11 conference kicked off today in Las Vegas, with Dean Hachamovitch's opening keynote. Hachamovitch is a Microsoft corporate vice president and the man with a plan when it comes to Internet Explorer.
During MIX10, Hachamovitch debuted the IE9 platform, which got its official release last month. Today, along with Windows divisional president Steven Sinofksy, he debuted IE10 platform. "We're about three weeks into development of IE10," Hachamovitch said. Hachamovitch's clothing foreshadowed what was coming, about half-way through the keynote. He wore a T-Shirt with "Ten,", where the Internet Explorer logo replaced the "e." In another surprise move, Hachamovitch announced that an IE10 preview is available now at the Internet Explorer Test Drive website.
Sinfosky made several plugs for Windows development, including announcing that Microsoft's Professional Developer Conference 2011 would take place from September 13-16 in Anaheim, Calif. He also touted the Samsung Series 9 notebook, which I saw on sale at Microsoft Store San Diego yesterday, by the way. Sinfosky also showed IE10 running on an ARM processor, which Microsoft announced its support for during Consumer Electronics Show in January. "We are hard at work on IE10 for some forward-looking things," he said.
Much has changed in the browser market, since the first MIX event five years ago. Back then, Internet Explorer still had huge market lead, with Firefox the only real competitor. Internet Explorer usage share fell to 55.92 percent in March 2011 from 56.77 percent a month earlier, according to NetApplications. Meanwhile, Chrome usage share rose (again) to 11.57 percent from 10.93 percent. For context: IE ended 2007 with 79.16 percent usage share.
<!image id=6378 center>
There's a new browser war. Last month, Apple released Safari 5.04; Google released Chrome 10 and Chrome 11 beta; Mozilla released Firefox 4; and Opera launched an app store, issued Opera 10.11 beta and debuted Opera Mini 6 and Opera Mobile 11. Because of the amazing number of browser announcements last month, I asked Betanews readers: "Which browser do you use?" -- and posted some of your responses. Many of you use Internet Explorer, but, probably many less than during the first MIX conference.
Hachamovitch started his keynote by emphasizing the importance of consuming things in their native language, extending the analogy to peoples' preference for applications over browsers. "Native experiences are the best experiences," Hachamovitch asserted.
The Microsoft exec made a strong pitch for HTML5's capability to deliver these native experiences, claiming that IE9 offers the best HTML5 support on Windows. Developers, do you agree? Please answer in comments. He demonstrated numerous live sites supporting HTML5, such as Pac-Man, to show off IE9's support for hardware acceleration. "They run in other browsers, just a bit slower," he said. "Hardware support isn't just a yes or no checkbox," he told developers. Applications supporting HTML5 and hardware acceleration "feel and run more like native applications," he emphasized.
<!image id=6379 center>
To make the point, Hachamovitch brought up an HTML5 paintball site to show the difference between Chrome and IE9. The latter was faster obviously. Hachamovitch took other digs at Google, by asserting the importance of leveraging the capabilities of "modern operating systems." He observed that fragmentation -- a direct dig at Android -- means that you "can't deliver the best experience on any one of them."
Actually, the keynote couldn't whack Google enough. The IE10 demo compared to Chrome, too. Considering Firefox has considerably more usage share than Chrome, the Google whacking says something about which is the greater competitor from Microsoft's perspective. Google launched Chrome 1.0 in December 2008. Version 11 already is beta testing. Meanwhile Microsoft revved two IE versions, which will soon be confronted not just with a Google browser but Chrome OS.
Hachamovitch took another dig at Google, regarding browser development, by turning to advantage oft-heard criticism of slow IE development compared to Google. "There is a difference between cadence and progress," he said. "Increased cadence just means more version numbers." So Microsoft plans to slow down the cadence for the benefit of progress -- of building a better browser. Development versions will now come "8-12 weeks apart rather than eight," he said.
<!image id=6380 center>
Microsoft sees supporting web standards that make sites run more like native applications as the future developers should embrace. "Many people want a better web," Hachamovitch said. "The web makes progress when developers take advantage of new technology."