Skype makes a big, brash debut for iPad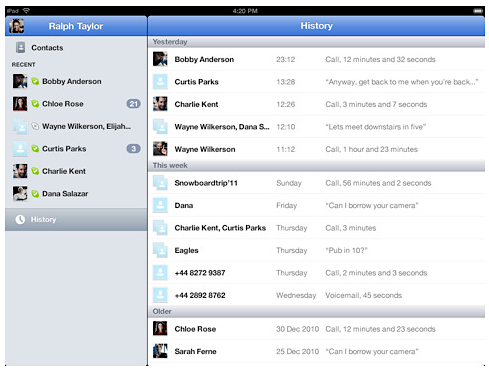 It's finally here: Skype for iPad has released on Apple's App Store. After months of waiting, iPad users can finally ditch the iPhone app and download this optimized build that takes full advantage of the extra screen real estate provided on the iPad.
Skype for iPad features everything you'll find in the iPhone app, including messaging and voice calls as well as video chat, but takes advantage of the superior hardware of the iPad 2 to deliver full-screen video chats using both front and back video cameras.
In operation, the video chat capabilities are what largely differentiate the iPad app from the iPhone version, which until today was the only way iPad users could use Skype. It looks and works in a similar fashion to Apple's own FaceTime app, with the added benefits of working over a 3G connection and giving iPad owners access to full-screen video with other Skype users.
Other iPad optimizations include the ability to send instant messages while chatting over video, a new grid-like view of the user's contacts, including larger avatars and easier navigation, with the ability to locate recent conversations and your Skype history at the touch of a button. It's also easier to send SMS messages simply by opening a contact and choosing Send SMS.
Skype for iPad is available now as a free download. Two-way video functionality requires an iPad 2. Skype is also available for Windows, Mac, Linux, iPhone, Android and Windows Phone.