Google releases Chrome 16 -- get it now!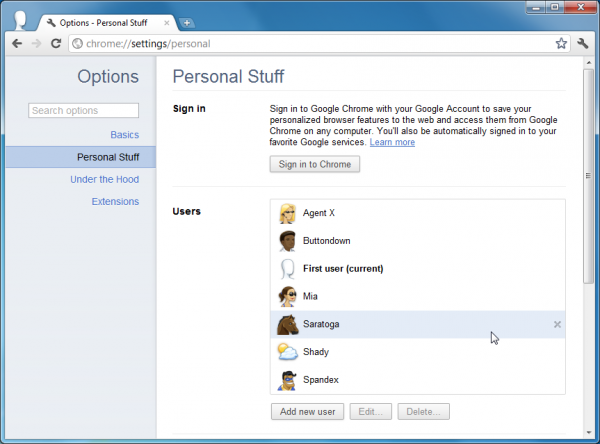 Google has announced the release of Chrome 16.0.912.63 to the Stable Channel for Windows, Mac, Linux and Chrome Frame. And as you may know if you've been following beta developments, this release includes one particularly interesting new feature in the ability to create multiple profiles for a single instance of Chrome.
If others use your copy of Chrome, you'll probably already know just how important this can be. Because right now, sure, Chrome is great at syncing your bookmarks, extensions, history and so on across all your other devices. But if someone adds their own bookmarks or extensions then they'll be synced as well, which probably isn't what you want at all.
The new solution, then, is to go to Options/ Preferences, Personal Stuff, and click "Add new user". A new instance of Chrome will appear with a badge top-left that tells you which user it belongs to, and this can be edited to whatever you like. Repeat the process to add as many profiles as your PC has users, and if someone then wants to use your copy of Chrome, all they have to do is click the badge and choose their profile from the list. Any customizations they make will then be restricted to their profile only (and synchronized with their own devices, as long as they've also signed in to Chrome).
A post on the Google Chrome blog makes it clear that this isn't intended to be a security solution, at any level. Profiles aren't password-protected, and anyone can switch to any other profile in just a couple of clicks. It's easy to use, though, and should be a welcome addition to anyone who shares their computer with others.
Even if no-one else dares touch your PC, though, it's still worth installing the latest release, if only for the usual selection of patches. Chrome 16 fixes some significant bugs, including several PDF-related out-of-bounds reads and buffer overflows, and upgrading will do a lot to improve your safety online.