Sony slashes S Tablet prices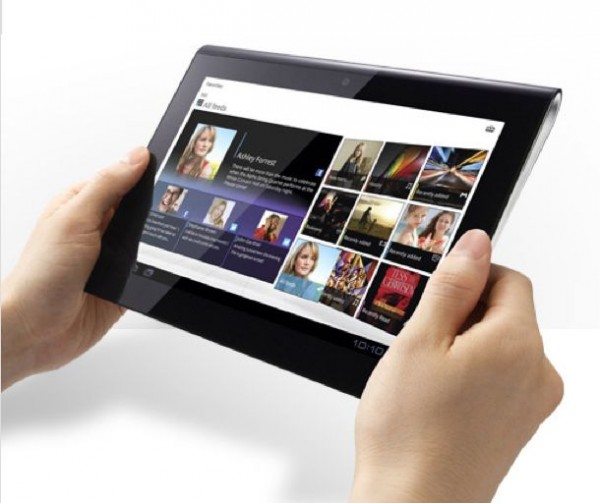 Sony Electronics rang in 2012 with a surprising discount that may foreshadow much about the tablet market this year. Overnight I received email from a Sony spokeswoman saying the company "has permanently dropped the price of the Sony Tablet S by $100 starting today". This follows what seemed like a temporary $50 discount right before Christmas. If you paid $499.99 or $599.99 before Santa's sleigh ride, 16GB Sony S is now $399.99 and 32GB 499.99.
SonyStyle Store doesn't yet list the new pricing as permanent, merely "save $100 instantly". "On top of these savings, Sony is also currently offering (for a limited time) a store credit and five free Video Unlimited movie rentals, five free PlayStation Store game downloads and 180 days of free Music Unlimited service with the purchase of a Tablet", the spokeswoman says.
Sony's big S price cuts come days after Verizon nipped $50 from Motorola Droid XYBOARD tablets, which have been on sale for less than a month. On December 12 I asked: "Would you pay Verizon $530 - $730 for Motorola Droid XYBOARD?" Reader Ken Johnson sums up the sentiment prevalent among your responses: "Hell No! Does Verizon think I'm stupid!"
Price cuts like these often come during product transitions, when companies hope to clear out old inventory for something newer. That's unlikely the case with either S Tablet or XYBOARD. Another reason: Excess inventory, particularly following a heavy sales period, like back to school or -- you know what's coming -- Christmas.
Many tablets are caught in the middle, between value leader Amazon Kindle Fire and brand brandisher iPad 2. Amazon sold more than four million Kindles in December, although the retailer refused to reveal how many were $199 tablets (that kind of reticence is typical). Some analysts predicted Amazon would sell 5 million Kindle Fires during the holiday quarter. In mid-December, a Maritz Research survey found Kindle Fire to be the tablet of choice among cost-conscious buyers.
The price is certainly right. According to a BetaNews tablet pricing survey, currently with 2,089 responses, $199 is the selling sweet spot (27 percent), with the majority looking to spend $199 or less (54 percent). Only 9.6 percent of respondents would pay $399 or more, which puts Sony S Tablet as way too high, even after the $100 discount.
XYBOARD pricing is even more stratosphere, because of mandatory data contracts. "Motorola won't be selling many of these", bibleverse1 comments. "Haven't they learned no one will give you $600 for a tablet with a contract? When the price is 149.99 with a 2-year contract, they will fly off the shelves". I'd say $199.99 is enough. Over Black Friday weekend, Verizon cut Motorola XOOM LTE price to $199.99, with two-year contract. I snapped up one, as did many other people. XOOM sold out fast.
By specs and brands -- Motorola, Sony and Verizon -- S and XYBOARD stand above the fray, of more than 100 tablets currently available. That's not enough. "By our calculation, over 100 tablets were introduced since the iPad. However, we defy even the most tech-savvy of you to name more than a few of them", writes Retrevo's Andrew Eisner. Meanwhile, small-and-medium businesses will spend an average of $21,482 on tablets this year, according to NPD, with the majority going to iPad.
Many have called 2011 "the year of the tablet"; 2012 is shaping up to be year of tablet price cuts, as most Androids vie for market share not taken by Kindle Fire at $199 (and presumably below, sometime soon) and iPad at $499 and above.