Logitech Cube might be CES 2012's ugliest product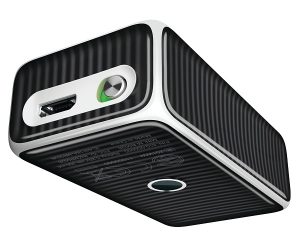 In a move that looks more like a clever ploy to attract bloggers and journalists to their booth at next week's Consumer Electronics Show than a product with any actual hope of success in the marketplace, Logitech on Thursday introduced the Cube. The rectangular shaped device is a mouse primarily, although it doubles as a presenter.
The square shape sure will take some getting used to, especially considering the design of the mouse has all but been unchanged in its three decades of existence. Why? Because it works. Remember Apple's circular mice that came with the original iMacs? They were derided for one reason -- ergonomics -- and the Cube seems destined for a similar fate.
I just don't see this thing being comfortable, and that's a big issue.
Scrolling is performed by running the finger across the top of the Cube. Lifting the device off the table will activate "Presenter Mode", and clicking the top will advance to the next slide. Logitech is also throwing its Unifying 2.4GHz wireless receiver into the package, allowing the user to connect up to six compatible devices to the receiver without the need for multiple dongles.
Logitech will begin selling the Cube this month in both the United States and Europe for $69.99, however it has decided to only sell it online. Maybe that's because this seems more gimmicky than anything? I do digress.