Uh-oh, iPhone fanboys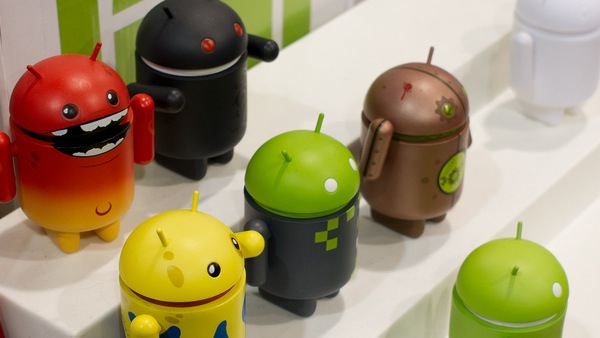 iPhone Idolators, please meet the Android Army. Now retreat! Android's share of the US smartphone market topped 50 percent in February, according to comScore. iOS gained share but trails considerably -- by like 20 points. You can have your iPhone, but many more Americans take Android. I'm waiting. What's your smarty-pants response to that, Apple apologists?
The findings butt against those from Nielsen -- a life raft of apology for those insisting iPhone will rule the world. Last week, Nielsen reported a huge surge in the number of new purchasers choosing iPhones compared to Android. For the three months ending in February, 48 percent of Americans who recently bought a smartphone, chose Android -- 43 percent iPhone, according to Nielsen. A year earlier, 27 percent of new acquirers chose Android versus 10 percent for iPhone.
comScore reports share for overall market, not new purchasers. During the three months ending in February, Android share was 50.1 percent among smartphone subscribers 13 and older -- that's up 3.2 points. iOS: 30.2 percent, up 5 points year over year and 1.5 points three months earlier. Those numbers are fairly consistent with Nielsen's: 48 percent for Android and 32 percent for iOS.
Fifty percent is a big number and puts iPhone in potentially perennial second place -- unless Android suddenly loses share. There's nothing in comScore, Nielsen or any other analyst data that remotely suggests a reversal. Android's dramatic growth slowed following the release of iPhone 4S in October, but there's no reversal in growth or share gains.
Something else: Where Android and iOS gains come from. Microsoft and Research in Motion mobile operating systems lost share (again), 1.3 percent and 3.2 percent, respectively -- or nearly what Android and iOS gained. BlackBerry's downward trend seems unstoppable. Windows Phone is uncertain, given the arrival of hot, new LTE models, led by the Nokia Lumia 900. RIM can't give up share forever.
Where Apple apologists can find solace is the one-against-many argument -- iPhone alone shows tremendous gains against dozens of Androids. Among them, Samsung is smartphone leader, with 25.6 percent share, which is flat over three months. Second-ranked LG lost 1.1 points to 19.4 percent share, while Apple gained 2.3 points to 13.5 percent share. Apple gains pushed Motorola to fourth place, with 12.8 percent share.
But nothing gets past Android's 50 percent, which comes as the US smartphone market approaches its saturation point and growth gains slow down for the leaders. Over three months, the number of Americans owning a smartphone rose 14 percent -- to 104 million, or 44 percent of all handset owners. iPhone would need to make dramatic gains against Android for all of 2012 to close the distance. At the current smartphone adoption rate, saturation is perhaps coming within 18 months.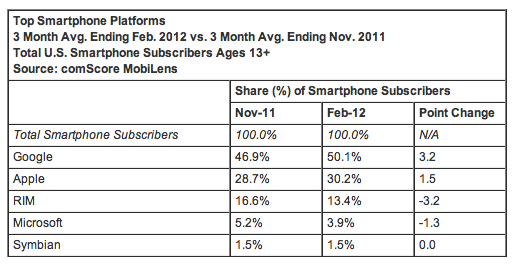 Considering that major carriers require two-year contractual agreements and more people will have recently purchased new smartphones then not, saturation is on track to lock in share for the major competitors sometime next year. If Windows Phone is to gain anything, new LTE models coming now must bring it while BlackBerry can still give up share. There's nothing in comScore, Nielsen or any other analyst data to suggest Androids or iPhone will relinquish anything.
Apple apologists can dance on BlackBerry's grave and laugh at (what they consider to be) Windows Phone dorks. But Android rules the world -- well, at least these United States.